Over 100 Canadian private equity and pension fund leaders share their thoughts and insights on the state of private equity in our first annual industry survey.
Get the pulse of the industry, along with commentary on what it all means from our leading PE practice.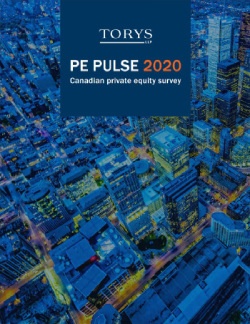 Executive Summary
The results of our first annual Canadian private equity survey suggest that pension funds and private equity firms expect 2020 to be marked by challenges typical of a maturing industry.
These challenges include greater competition in the market due to private equity firms increasing their fund sizes, pension funds and other institutional investors allocating more capital to the private equity industry, and the growing presence of certain types of investors, such as family offices, throwing their hats into the ring. This diversifying and expanding competition and the shortage of transaction opportunities for good assets are all contributing to rising valuations.
Almost half of respondents in our survey say they expect average transaction size to increase, an unsurprising sentiment given the ongoing rise in private equity deal sizes we have seen year over year in Canada. These larger deals have been in part driven by the growth of fund sizes and pressure by LPs to provide co-investment opportunities. Larger transactions also need to compete with public market valuations, further driving up valuations in the private equity sector.
The ongoing competition for good assets shows no sign of stopping, and as many as two-thirds of survey respondents perceive vendor pricing expectations as having increased over the past year, furthering the pressures on their business. Despite valuation tensions, stakeholders plan to spend most of their time on new investments, as well as portfolio-company development, in the near term. Investors are also looking to diversify across sectors, including sectors with emerging and growth potential, such as Canada's technology sector. Deal sourcing, raising new funds, and economic growth/stability are the most commonly cited as factors critical to sponsors' success.
Respondents also report ongoing concerns about a downturn, with a majority of respondents indicating they think the overall economic climate, both in Canada and globally, will worsen. While surveyed respondents were based in Canada, the markets in which they operate are, in many instances, global, and therefore their responses to the survey should be considered through that lens.
However, as we have seen in the last few years, macroeconomic tensions have not proven to impede dealmaking. Those players in the space who remain disciplined and creative in finding opportunities are likeliest to benefit from an active dealmaking year in 2020.
To discuss these issues, please contact the author(s).

This publication is a general discussion of certain legal and related developments and should not be relied upon as legal advice. If you require legal advice, we would be pleased to discuss the issues in this publication with you, in the context of your particular circumstances.

For permission to republish this or any other publication, contact Janelle Weed.

© 2021 by Torys LLP.
All rights reserved.