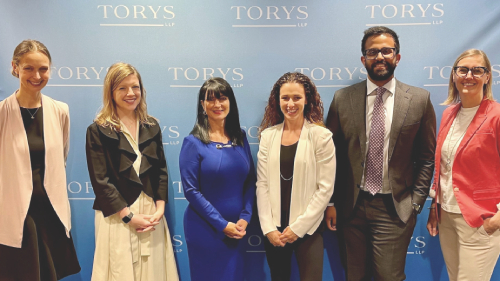 Members of the team representing Mandy Bujold, L to R: Sarah Whitmore, Emma Loignon-Giroux, Sylvie Rodrigue, Mandy Bujold, Irfan Kara, and General Counsel of the Canadian Olympic Committee, Marianne Bolhuis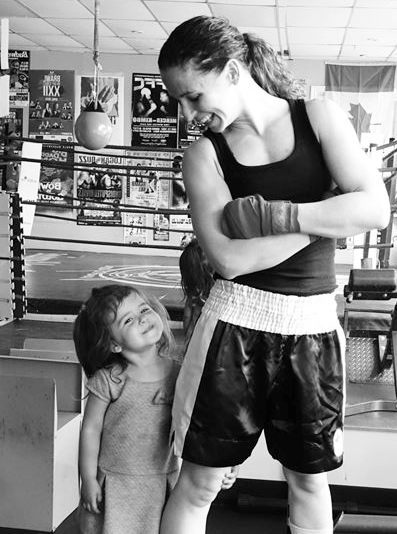 Mandy Bujold and her daughter
In a precedent-setting case, a Torys team led by partners Sylvie Rodrigue and Sarah Whitmore successfully represented Canadian Olympic boxer Mandy Bujold and the Canadian Olympic Committee in a discrimination legal challenge before the Court of Arbitration for Sports (CAS) in Switzerland.

Mandy is an 11-time national champion, two-time Pan American Games gold medalist and a Rio 2016 Olympian. She was disqualified from competing at the Tokyo 2020 Olympics after the IOC cancelled the Americas qualifier, which was supposed to be held last May, and retroactively decided to use only three events held in 2018-2019 to qualify female boxers, a period during which Mandy was pregnant or postpartum.

Mandy was ranked 1st in 2015, 1st in 2016 and 2nd in 2017 in the Americas (8th in the world). She planned her pregnancy immediately after Rio, according to the Olympic cycle, with a view to being back for the Canadian Olympic Qualifier in December 2019, followed by the Americas Qualifier in the spring of 2020. After Mandy's daughter was born in November 2018, Mandy won the Canadian Olympic Qualifier and there was no doubt she would have qualified in May at the continental qualifier.

After the cancellation of the qualifying event and the decision to retroactively use events held in 2018 and 2019 to qualify athletes, Mandy and Sylvie Rodrigue brought the discriminatory effect of this decision to the attention of the IOC to no avail, following which an appeal to CAS was filed.
Appeal and decision
This was a human rights case with the core issue being discrimination based on sex in violation of the Olympic Charter, Swiss law and International law. On June 30th, the Court granted the appeal and ordered the IOC to amend its qualification criteria to include an accommodation for women who were pregnant or postpartum during the period retroactively chosen to qualify athletes. As a result, Mandy qualified for the Tokyo Olympics and will be representing Canada in a few weeks.
You can read more regarding the decision, as well as a statement from Mandy in this CBC article. In her statement, Mandy emphasizes that this fight was not just for herself, but for all female athletes.
We are proud of our team's success in this case and are grateful for the opportunity to have been able to represent Mandy in this fight for women's rights in sport.