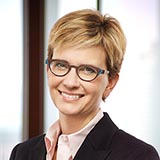 We are delighted to announce that Chair of Torys' Litigation and Dispute Resolution practice Linda Plumpton has received the Women's Executive Network's (WXN) 2020 Canada's Most Powerful Women: Top 100 Award.
The awards recognize women who are trailblazers in their field and are committed to paving the way for the next generation. According to WXN, "Top 100 winners are women who personify what it means to be powerful through the way they empower and champion others, influence change and stand up for all of us".
Linda began her career as a litigation associate at Torys in 1996. From the outset, her tenacity, persuasiveness, and aptitude for complicated case files were signs of a legal talent on the rise. Her obvious skill and dedication to client advocacy saw her advance to partner in only six years, in 2002.
Both an exceptional litigator and a leader, Linda was named Sheila Block's successor as the Chair of the firm's litigation department in 2019. Linda's mentorship at the firm and her commitment to sponsoring women in their professional development has been instrumental in advancing a culture of inclusion and collaboration at Torys. An advocate for women in law, recognizing and supporting women through to partnership has been a priority for Linda.
Linda's professional contributions have been recognized by the legal community through a number of accolades and distinctions in recent years, including being named Litigator of the Year 2020 at the Canadian Law Awards, her admission to the American College of Trial Lawyers in 2019, being featured on Benchmark Litigation's Top 50 Women Litigators in Canada list for seven consecutive years, and being named Ontario Litigator of the Year at the 2020 Benchmark Litigation Canada Awards.
Congratulations to Linda on her well-deserved award win!