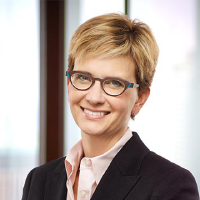 We are delighted to announce that Torys partner Linda Plumpton has become a Fellow of the American College of Trial Lawyers (ACTL). According to the ACTL website, this invitation is only extended to "those who have mastered the art of advocacy and whose professional careers have been marked by the highest standards of ethical conduct, professionalism, civility and collegiality".
Linda is a member in the Competition and Antitrust practice and is the chair of the firm's Litigation and Dispute Resolution practice. She has appeared as counsel in the Supreme Court of Canada, in all levels of court in Ontario, and in the Federal Court, as well as before the Competition Tribunal and the Ontario Securities Commission.
Linda is hardly a stranger to being recognized for her experience in litigation, with recognition from virtually every ranking and directory organization in the legal industry for her contributions to the areas of competition litigation, class action defence, corporate and securities litigation. From a leading litigation lawyer to most frequently recommended, Linda has been featured by Chambers Canada, Chambers Global, Best Lawyers in Canada, The Legal 500 Canada, Benchmark Litigation and more. In recent Chambers Canada recognitions, clients referred to Linda as having "expert knowledge regarding appeal matters" and being "very respected by the OSC".
Linda joins the ranks of other Torys litigators who have been inducted by the College, including Sheila Block, Trisha Jackson and Jim Tory.
Congratulations Linda on this well-deserved recognition!
Learn more about the recent work of Torys' litigation and dispute resolution team.