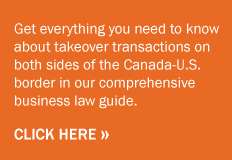 The Canadian Securities Administrators (CSA) have announced that they are adopting amendments to the country's takeover bid regime that will extend the current 35-day minimum bid period for takeover bids to 105 days, rather than the previously proposed 120-day period for tendering to a takeover bid in Canada.
Along with this change, the CSA are also adopting new early warning rules that will require, among other things, disclosure of decreases in ownership of public company securities of 2% or more and when ownership levels fall below the 10% reporting threshold.
The regulators' switch from a 120-day to 105-day minimum bid period was driven by the need to ensure that the new takeover bid period does not conflict with compulsory acquisition provisions in Canadian corporate statutes―these statutes generally allow a bidder to squeeze out minority shareholders if at least 90% of the target's shares have been tendered within 120 days of the date of the bid. Aside from the new 105-day period, the CSA's draft rules on Canada's proposed new takeover bid regime, released in March 2015, remain largely unchanged.1 CSA National Policy 62-202 governing defensive tactics is also unaffected.
The new takeover bid and early warning rules are expected to take effect on May 9, 2016.
What You Need To Know
New Takeover Bid Regime
All non-exempt takeover bids will be open for shareholders to deposit their shares for a minimum duration of 105 days, which the target board can shorten to as little as 35 days in certain cases.
Non-exempt takeover bids will be subject to a mandatory minimum tender condition of over 50% of outstanding shares, other than shares held by the bidder and its joint actors. The deposit period must be extended by 10 days once the minimum tender requirement has been met and all other bid terms and conditions are satisfied or waived.
The new 105-day period will increase deal uncertainty for hostile bidders, exposing them, for example, to interloper risk for an extended period of time. This will strengthen target boards' negotiating leverage. We anticipate that hostile bidders will perceive the benefit of engaging more with target boards who will have the ability to reduce the minimum tender period for friendly transactions.
Target boards will continue to see the advantage of adopting a poison pill to regulate exempt purchases of target securities through creeping acquisitions and private agreement purchases, and to prevent irrevocable lock-up agreements. However, absent unique circumstances, we expect that the regulators would not generally permit a target board to implement a poison pill for the purpose of delaying a bid beyond 105 days, if the bid has been accepted by a majority of disinterested shareholders and otherwise complies with the new rules.
Enhanced Early Warning
The new rules clarify that early warning news releases must be issued by the opening of trading on the next business day.
Disclosure will be required of decreases in ownership of public company securities of 2% or more and when ownership levels fall below the 10% reporting threshold.
Eligible institutional investors will be prevented from using the Alternative Monthly Reporting System if they solicit proxies to

contest a director election or
support an M&A transaction that is not supported by management or oppose an M&A transaction that is recommended by management.

Enhanced disclosure in early warning reports will be required in respect of

the acquiror's plans or future intentions with respect to the reporting issuer and involving, for example, a corporate transaction, board or management change, or a solicitation of proxies, among other actions, and
the acquiror's interest in related financial instruments, securities lending arrangements and other arrangements in respect of the securities.

Lenders and borrowers will, in some cases, be exempt from including the securities lent or borrowed for the purposes of determining the early warning reporting threshold trigger.2
_________________________
1 For background details on the CSA's proposed takeover bid rules, see Torys' bulletin on Torys.com.
2
For background details on the CSA's proposed early warning rule changes, see Torys' bulletin on
Torys.com
.
To discuss these issues, please contact the author(s).

This publication is a general discussion of certain legal and related developments and should not be relied upon as legal advice. If you require legal advice, we would be pleased to discuss the issues in this publication with you, in the context of your particular circumstances.

For permission to republish this or any other publication, contact Janelle Weed.

© 2021 by Torys LLP.
All rights reserved.