In recent years we have observed that merger reviews under the Competition Act are becoming more complex and that regulatory intervention under the Investment Canada Act is increasing, particularly in connection with small, non-reportable transactions. A consequence of this trend is that some parties are opting to litigate, and we expect this to continue in 2016.
Recent Regulatory Disputes in Canada
In 2015, its ruling in the Tervita case marked The Supreme Court of Canada's first merger decision under the Competition Act since 1997. The transaction involved the acquisition of a waste landfill site with a value of only C$6 million, falling well below the notification threshold for mandatory merger review under the Competition Act. In allowing the merger, the Court resolved a matter that had begun in 2010, when the deal was originally challenged by the Competition Bureau. The case involved complex litigation proceedings before the Competition Tribunal and Federal Court of Appeal.
Last year, the Competition Bureau also challenged the acquisition by Parkland Industries of 17 Pioneer gas stations or supply contracts to non-corporate stations. The Commissioner of Competition alleged that the transaction would result in a substantial lessening of competition in 14 communities in Ontario and Manitoba. Following an application by the Commissioner, the Competition Tribunal granted an interim injunction requiring Parkland Industries to preserve and "hold separate" six gas stations and eight supply agreements that it acquired from Pioneer pending the outcome of the contested proceedings. The litigation is ongoing.
Similarly, Industry Canada reviews of foreign investments under the "net benefit" and "national security" provisions of the Investment Canada Act (ICA) have been on the rise, with numerous transactions being blocked or restructured. Last spring, the government used the national security provisions of the ICA to block a Chinese state-owned enterprise from establishing a new business in Canada. The Chinese investor, Beida Jade Bird, planned to build a C$30-million fire alarm manufacturing facility in Saint-Bruno de Montarville, Québec. The investment was reportedly prohibited because the site was located close to facilities operated by the Canadian Space Agency.
In August 2015, O-Net Communications, a Hong Kong-based investor, sought judicial review of a Privy Council national security order requiring O-Net to divest itself of a Québec-based company called ITF Technologies, which it acquired in 2014. The case is notable because it involves a post-closing "national security" review and divestiture order. As in the Beida Jade Bird matter, the investment was not initially subject to the normal-course "net benefit" review, in this case because of its small size. The litigation is ongoing.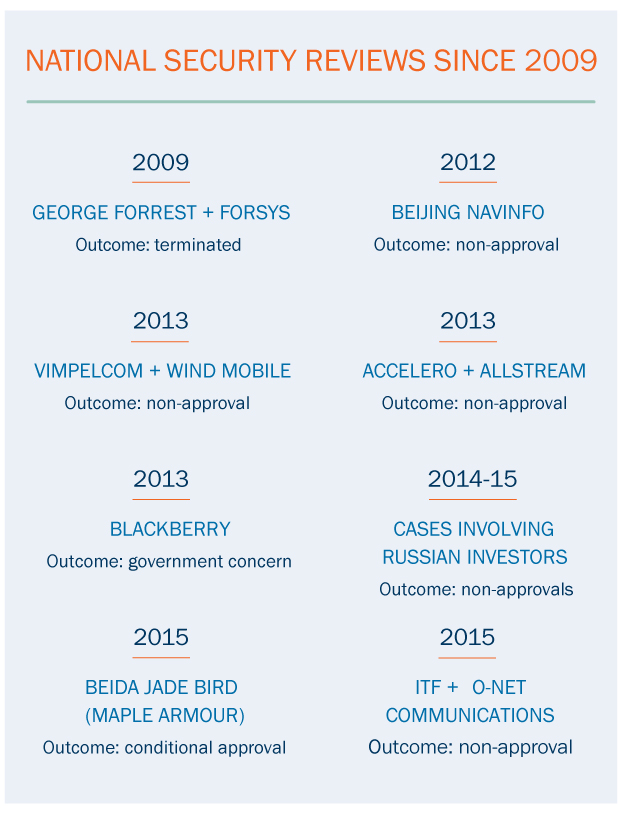 M&A and Regulatory Scrutiny
At a minimum, these cases illustrate an interventionist government and parties willing, at least in some circumstances, to litigate transactions important to them rather than settle regulatory proceedings. The prospect of litigation has and will continue to impact M&A transactions in a number of important ways:
Regulatory risk assessments should be part of any transaction, regardless of size. Enforcement actions have been taken in numerous small, non-reportable mergers in recent years.
Parties should consider structuring transactions to minimize the likelihood of lengthy or complex regulatory reviews that could lead to litigation. This could include offering upfront "hold-separate" commitments or, in the case of foreign investment reviews, carving out sensitive assets or business lines, or avoiding establishing businesses in the proximity of sensitive government facilities.
Also in the case of foreign investment reviews, parties should consider early, confidential pre-consultations with relevant government agencies. Investors will not get informal "green-lights," but might be given advance warning of potential problems. Vendors and targets should consider similar approaches.
Parties should ensure their M&A agreements reflect due consideration of risks and potential outcomes pre-and post-closing. This could include requirements to seek early "national security" clearance, indemnification provisions for vendors in case they get swept into a post-closing review or even litigation, long outside dates to permit time for extended reviews, or reverse break fees to compensate for uncompleted deals.
Aside from taking these steps, as regulatory intervention in M&A increases, M&A players should recognize litigation as an option if regulatory outcomes are not commercially satisfactory, and strategize accordingly with "eyes wide open."
To discuss these issues, please contact the author(s).

This publication is a general discussion of certain legal and related developments and should not be relied upon as legal advice. If you require legal advice, we would be pleased to discuss the issues in this publication with you, in the context of your particular circumstances.

For permission to republish this or any other publication, contact Janelle Weed.

© 2021 by Torys LLP.
All rights reserved.