For many businesses, returning to the on-site operations after COVID-19 will not be as simple as reverting to pre-pandemic routines. Business leaders have a host of decisions and considerations in what's likely to be a new in-office experience. Join us for this series as we explore answers to the important questions decision makers should consider as they build their plan for returning to the office.

Can and should you require that employees get a COVID-19 vaccination before returning to the physical workplace? This question is top of mind for organizations as the vaccine rollout picks up steam across Canada. Our panel of employment lawyers will walk you through the health and safety, human rights, privacy and liability considerations to take into account as you approach this subject
12:00 p.m.–1:00 p.m. EDT presentation
11:45 a.m. webinar opens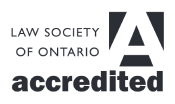 New York: This program contains 1.0 Areas of Professional Practice credit.
Ontario: This program is eligible for up to 0.5 Substantive hour and 0.5 Professionalism hour.
Other sessions in this series:
Vaccines for employees: A roadmap for business leaders