Overview


Biosimilars, or Subsequent Entry Biologics (SEBs) as they are known in Canada, are approved via the New Drug Submission (NDS) pathway under the Food and Drug Regulations, the same pathway that is used for "original" innovative drugs. However, through reliance on a demonstration of similarity to a comparator biologic drug, the application for approval of a biosimilar includes fewer safety and efficacy studies than a typical NDS.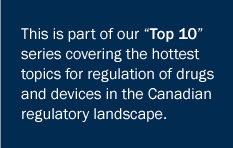 The first biosimilar, Omnitrophe, a biosimilar of Genotropin (somatropin), was approved in Canada in 2009. Subsequently, two additional biosimilars of Remicade (infliximab), named Inflectra (infliximab) and Remsima (infliximab), were approved in 2014. Multiple other products are expected to enter the market in the next few years. Health Canada's reasons for approving these biosimilars, called "Summary Basis for Decision," were published in 2015.1
Reimbursement remains a topic to watch, as public and private payors consider whether and with what conditions biologic products will be listed on drug formularies. The situation can be complex when a biosimilar is not approved by Health Canada for all of the same indications as its comparator product. As an example, Inflectra is approved for four of the same indications as Remicade; Remicade is approved for two additional indications. In the province of Quebec, both products are listed on the public formulary, but if infliximab is prescribed for an indication that is covered by both Remicade and Inflectra, the government will only reimburse the lowest price—i.e., up to the Inflectra price—except in limited situations where the prescribing physician can justify a therapeutic concern with use of the biosimilar over the comparator brand product.
Key Takeaways: As more biosimilar products are approved, with varying degrees of "similarity" to their comparator products, it is unclear whether Health Canada will approve these products using the same name for the "active ingredient" as the comparator product and how payors will treat these products for substitution/interchangeability decisions.
_________________________
1 The Summary Basis for Decision for Inflectra.

Follow our FDL updates us on Twitter: @TorysFDL


Click here to subscribe to Torys' insights and updates