Overview


When a medical device manufacturer applies for a Canadian license for their U.S.-marketed device, one of the first questions to be asked is, "what indications for use, safety data, or efficacy evidence did Health Canada accept for similar comparator products in Canada?" Unlike in the U.S., where the FDA publishes device summaries in its online database, this licensing information has been largely unavailable in Canada where only basic administrative details on device licenses are available online.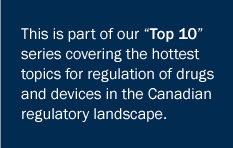 Health Canada's Summary Basis of Decision (SBD) initiative is intended to overcome this limitation by enhancing the transparency of the medical device review process. Health Canada has now begun publishing select SBD documents that outline the scientific and benefit/risk-based considerations that factor into Health Canada's decision to grant market authorization for a medical device. A limitation of the current SBD process, however, is that SBDs are not drafted for all medical device applications. In fact, as of 2015, Health Canada's target is to publish between 5-7 SBDs per year for newly licensed Class III and IV medical devices with novel technology.
Key Takeaways: Manufacturers, particularly those integrating relatively new medical device technologies, should consult SBDs for possible insights into Health Canada's safety and efficacy requirements. To access Health Canada's SBD for Medical Devices, click here.

Follow our FDL updates us on Twitter: @TorysFDL


Click here to subscribe to Torys' insights and updates