Overview


As a cost reduction measure, many medical devices labeled for single use are reprocessed by hospitals and other health care facilities for reuse. Historically, reprocessing would take place within the hospital; however, in recent years commercial providers have begun to offer reprocessing services—without oversight from Health Canada.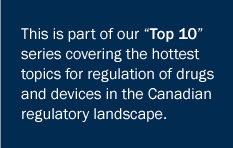 Early this year, Health Canada announced a change to its approach to regulating these devices, indicating that reprocessors will be held to the same standards as "original" manufacturers with respect to licensing, quality system management, labeling, record keeping and reporting. This means that facilities where single-use devices are cleaned, sterilized and packaged will require an establishment license and reprocessed devices will require pre-market approval (for class II, III and IV devices) and label review. Medical device reprocessing that occurs on-site at a Canadian hospital will not be subject to oversight or enforcement by Health Canada.1
Key Takeaways: The industry has been given an 18-month transition period to apply for these medical device and establishment licences with the expectation that all reprocessed devices will be in compliance with the Medical Device Regulations by September 1, 2016. Manufacturers, importers and distributors that are non-compliant after that time may be subject to risk-based enforcement.
_________________________
1 For more information, click here.

Follow our FDL updates us on Twitter: @TorysFDL


Click here to subscribe to Torys' insights and updates