Overview


Generally, the same rules apply for social media advertising as with more conventional media—which means that, in Canada, drug and device-related social media content is subject to a high level of regulation. If a manufacturer has some degree of control over its Canadian social media content (either through a sponsorship relationship with an athlete, celebrity or other public figure, or through social media content posted to the manufacturer's own website feeds or social media accounts), that manufacturer could be liable if any of the content contravenes the Food and Drugs Act and other applicable legislation.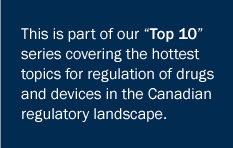 Furthermore, in Canada, where consumer advertising of prescription drugs is strictly limited to the name, price and quantity of the drug, social media content referencing prescription drugs carries with it a high degree of risk. Even for non-prescription drugs, natural health products and medical devices, manufacturers must carefully monitor any social media content to ensure that it complies with the terms of market authorization for the products (for example, with respect to dosage, duration of use, instructions for use, or warnings). It is easy to see how a social media message—often constrained by character limits, unintended image content, or unsolicited user-generated content, such as "likes" or "reposts"—can quickly move from compliant to non-compliant.
Key Takeaways: As social media continues to evolve, manufacturers will want to be vigilant in monitoring social media under their control having ties to Canada, and to have policies in place for deleting posts and correcting for inaccuracies in user comments and posts.

Follow our FDL updates us on Twitter: @TorysFDL


Click here to subscribe to Torys' insights and updates