Overview


The management of class action product liability claims continues to be an important legal topic for drug and device manufacturers in Canada. Class action proceedings have been building in frequency, and all but one of Canada's 10 provinces now have class action legislation.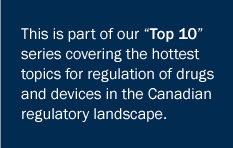 To certify a class action, the following criteria must typically be satisfied (although they may vary somewhat from province to province): (1) the representative plaintiff must have a valid cause of action; (2) there must be an identifiable class of two or more persons; (3) the claims of the class members must raise common issues; (4) a class proceeding would be the preferable procedure for the resolution of the common issues; and (5) the representative plaintiff seeking certification can fairly and adequately represent the interests of the class, has a litigation plan for advancing the proceeding on behalf of the class members and does not have, on the common issues for the class, an interest that conflicts with the interests of other class members. The industry is generally of the view that, when applied to drugs and medical device product liability, class action certification requirements historically have been broadly interpreted and applied by Canadian courts. However in 2015, the British Columbia Court of Appeal overturned the B.C. Supreme Court's class certification in Charlton vs. Abbott Laboratories,1 which may suggest a possible move towards more rigorous standards in certifying class actions against pharmaceutical companies. In Charlton, certification was refused on the basis that the representative plaintiffs were unsuccessful in demonstrating a methodology to establish causation on a class-wide basis.
Key Takeaways: Although Charlton represents the court's application of its "gatekeeping" role, it is yet to be seen whether this decision will be followed or adopted by other provinces.
_________________________
1Charlton v. Abbott Laboratories, Ltd., 2015 BCCA 26

Follow our FDL updates us on Twitter: @TorysFDL


Click here to subscribe to Torys' insights and updates