Overview


Until now, the term "medicinal ingredient" had been undefined in Canadian regulations, and subject to ad hoc interpretation depending on the applicable context. This position was successfully challenged in the 2013 court decision Apotex Inc. v. Canada (Health),1 where the Federal Court required Health Canada to apply a consistent interpretation of the Food and Drug Regulations, including the interpretation of "medicinal ingredient."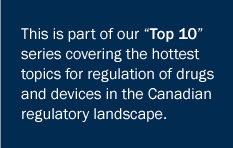 As a result, this past June, Health Canada clarified that the term "medicinal ingredient" in the Food and Drugs Act and the Food and Drug Regulations refers to the active pharmaceutical ingredient (API), which forms the raw material used in the manufacture of a finished drug product.2
Key Takeaways: This policy benefits innovator pharmaceutical manufacturers in making it more difficult for a generic drug product to receive marketing approval where a medicinal ingredient diverges into different chemical forms during manufacturing. For the purposes of generic drug submissions (ANDSs), Health Canada may require a generic drug manufacturer to submit additional evidence of safety or bioequivalence to a Canadian reference product, if the proposed generic involves different processing of the API, such that the "medicinal ingredient" is present in different chemical forms at the finished dosage stage. For example, if a generic manufacturer uses the same API as a raw material in the manufacturing, but the manufacturing process results in a different salt form in the finished product as compared to the innovator product (as occurred the Apotex case which brought about this interim policy), then Health Canada may ask the generic manufacturer to submit additional evidence that the two products are bioequivalent.
_________________________
1 2013 FC 1217
2 The interim policy is posted here.

Follow our FDL updates us on Twitter: @TorysFDL


Click here to subscribe to Torys' insights and updates