Overview


One of the greatest changes to Canadian drug and device regulatory law this past year is Bill C-17 Protecting Canadians from Unsafe Drugs Act (Vanessa's Law). Passed in November 2014, the bill amends Canada's Food and Drugs Act, and represents the first substantial amendment to the country's core drug and device legislation in 50 years. The amendments affect prescription and over-the-counter drugs (but not natural health products (NHPs)) and medical devices ("therapeutic products") and not other regulated products (food, cosmetics or NHPs).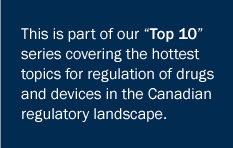 These amendments strengthen Health Canada's powers to:
(a) disclose confidential business information in its possession, without the consent of the party to whose business the information relates;
(b) order a post-market label or package change;
(c) issue a product recall; and
(d) require that a third party provide information to help determine whether a product presents a risk to health and safety.
The maximum fine upon conviction for a contravention of the Food and Drugs Act or its regulations was also increased from $5,000 to $5,000,000 per day.
Thus far, the industry has expressed most concern with Health Canada's new statutory power to compel confidential business information to be disclosed, without notice or permission, if Health Canada believes that a therapeutic product presents a serious risk of injury to human health.
Key Takeaways: It is still yet to be seen how Health Canada will exercise its new powers. However, to assist and inform the industry on these changes, Health Canada has published its "Guide to New Authorities (power to require and disclose information, power to order a label change and power to order a recall)." The Guide defines the set of principles that Health Canada undertakes to follow when exercising its newly legislated powers. Specifically, the Guide discusses applicable thresholds and considerations, as well as the scope of each particular power. It also provides insight into Health Canada's position on matters like the meaning of "serious risk" of injury, procedural fairness, "sufficient notice" of an intention to issue an order against an affected party as well as the content of an order.

Follow our FDL updates us on Twitter: @TorysFDL


Click here to subscribe to Torys' insights and updates