Overview


The Government of Canada approaches tobacco regulation from a public safety perspective. Federal legislation, as part of the Federal Tobacco Control Strategy (FTCS), works in conjunction with provincial and territorial legislation to implement a framework consisting of market-based instruments, such as taxes, and restrictions on tobacco manufacturing, advertising and distribution to achieve product regulation. The key tenets of this strategy are prevention, protection, and cessation of tobacco use among all Canadians.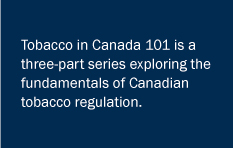 What is a "Tobacco Product" in Canada?
A "tobacco product" means a product composed in whole or in part of tobacco, including tobacco leaves and any extract of tobacco leaves. Thus, the term is not limited to products solely containing tobacco but also includes products with tobacco constituents. Cigarette papers, tubes and filters further broaden the scope of the definition to include components of tobacco products. The definition is not inclusive of any food, drug or device that contains nicotine to which the Food and Drugs Act applies. If the Food and Drugs Act applies to the product, the Tobacco Act does not.
Marketing
Tobacco marketing is highly regulated and many forms of advertising are outright prohibited. Products may be advertised at adult-only venues and through direct mail to identified adults or in publications with a readership that is at least 85% adult. Canadian tobacco manufacturers are not permitted to use cross-border ads, campaigns or promotions that offend provisions of the Tobacco Act. Sponsorship is also restricted. Tobacco manufacturers cannot publicize their sponsorship; brand names, logos or other recognizable materials cannot be displayed at the site of the event, nor in any material promotion of the event.
Sale and Distribution
Sale and distribution is circumscribed by both federal and provincial legislation with the dual objective of reducing the sale of tobacco products to minors and, through economic disincentives such as tobacco taxes, decreasing usage among adults. Taxation has been used as a policy tool to make cigarettes less accessible to consumers and has contributed to reduced smoking prevalence.
Labelling and Packaging
Labelling and packaging rules require a trio of health warnings, health information messages, and toxic emissions statements including the display of a pan-Canadian toll-free quitline number and cessation Web portal. With some exceptions, health warnings must cover at least 75% of the package's display area and a toxic emissions statement must be displayed in English and French. The terms "light" and "mild" and similarly misleading terms are prohibited on all labels and packaging.
The implementation of smoking restrictions in public places is enforced both federally and provincially. Under federal law, smoking is banned in most federally-regulated workspaces and government offices. Provincially, second-hand smoke bans prohibit smoking in public spaces and workplaces, with few exceptions.

Follow our FDL updates us on Twitter: @TorysFDL


Click here to subscribe to Torys' insights and updates