Overview


The key tenets of the government's tobacco regulation strategy are prevention, protection, and cessation of tobacco use among all Canadians. In this final entry in our series, we provide two tables covering the basics of the Tobacco Act and related provincial laws.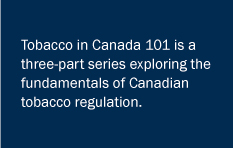 Tobacco Act Regulations and Amendments
Below are some of the Act's key rules around manufacturing, enforcement, labeling and promotion.
Manufacturing

Cigarette Ignition Propensity Regulations
Require cigarettes to have a reduced likelihood of igniting upholstered furniture, mattresses and bedding in order to reduce the death and injury associated with such fires.

Tobacco Reporting Regulations
Requirements for the reporting of sales data, manufacturing information, tobacco product ingredients, toxic constituents, toxic emissions, research activities and promotional activities by tobacco manufacturers and importers.

Order Amending the Schedule to the Tobacco Act
Will restrict the use of additives, including flavouring agents, in certain types of cigars. Specifically, the Order will place flavour restrictions on cigars weighing more than 1.4 g, but not more than 6 g and on cigars having physical characteristics similar to those of cigarettes or little cigars.

Enforcement

Tobacco (Seizure and Restoration) Regulations
Set out procedures that permit persons subject to the Act to challenge a seizure under the Act. They are intended to ensure that persons from whom tobacco products or other things are seized are made aware of the restoration provisions of the Act.

Labelling

Tobacco Products Information Regulations
Require that tobacco products display health warning messages, health information messages and information about toxic chemicals found in tobacco products in a way that is easily legible, in a similar manner in both official languages and, where specified, in colour.

Promotion of Tobacco Products and Accessories Regulations (Prohibited Terms)
Prohibit the use of the terms "light" and "mild," and variations thereof, on cigarettes, little cigars, bidis, kreteks, cigarette tobacco, tobacco sticks, cigarette papers, filters, and tubes. The prohibition applies to the products, the packaging, advertising, promotions, retail displays and also apply to tobacco accessories.

Tobacco Products Labelling Regulations (Cigarettes and Little Cigars)
The TPLR-CLC replace the existing requirements in the TPIR that apply to cigarettes and little cigars, and require new health-related labels to be displayed on all cigarette and little cigar packages that are intended for retail sale.

Promotion

Tobacco Access Regulations
Regulations set out signage and documentation that may be used to verify age, it also exempts duty-free shop operators from section 11 of the Act.
Province

Legislation

Key Points

British Columbia

Tobacco Control Act, RSBC 1996, c 451

Directed to restrictions on the sale,
offer to sell, distribute, provide, advertise
or promote the use of tobacco.
Also regulates locations where smoking or
selling tobacco is prohibited.
Discusses penalties and liabilities.

Alberta

Tobacco and Smoking Reduction Act, SA 2005, c T-3.8

Saskatchewan

Tobacco Control Act, SS 2001, c T-14.1

Manitoba

Non-Smokers Health Protection Act, CCSM, c. N92

Ontario

Smoke-Free Ontario Act, SO 1994, c 10

Newfoundland

Tobacco Control Act, SNL 1993, c T-4.1

New Brunswick

Tobacco and Electronic Cigarette Sales Act, SNB 1993, c T-6.1
Smoke-Free Places Act, RSNB 2011, c 222

Nova Scotia

Tobacco Access Act, SNS 1993, c 14

Prince Edward Island

Tobacco Sales and Access, RSPEI 1988, c T-3.1

Follow our FDL updates us on Twitter:
@TorysFDL

Click here
to subscribe to Torys' insights and updates