Overview


The key tenets of the government's tobacco regulation strategy are prevention, protection, and cessation of tobacco use among all Canadians. In this part of our series, we explore manufacturing issues, including reporting requirements, e-cigarettes and other products, and additives.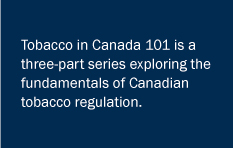 Reporting Requirements
Reporting Requirements obligate manufacturers to disclose sales data and research studies about the content of tobacco products and their emissions to allow Health Canada to monitor product modifications, tobacco product development and marketing plans. Reporting requirements also pertain to promotional activities of the tobacco manufacturer. In part, these requirements all serve to keep Health Canada in on changes in industry manufacturing and distribution practices that may require further regulatory action.
Electronic Tobacco Products
The regulatory response to electronic tobacco products has been slow and uncertain. Health Canada has not approved the sale of e-liquids containing any nicotine in Canada. Yet, e-cigarettes are accessible and their use is a growing trend. Provincial and municipal intervention intended to fill the regulatory gap has resulted in a patchwork of laws and regulations primarily geared towards the sale, distribution and use of e-cigarettes in public places. E-cigarettes cannot be marketed on claims that they are an effective way to quit smoking or claims suggesting they are a safer alternative.
Additives
The use of additives, especially flavouring agents in tobacco products, are banned on cigars weighing between 1.2g-6g and on cigars with physical features resembling cigarettes and little cigars (such as tipping paper or a wrapper with a straight seam). Menthol and menthol additives are not prohibited.

Follow our FDL updates us on Twitter: @TorysFDL


Click here to subscribe to Torys' insights and updates