Overview


In view of recent enforcement efforts regarding compliance with medical device mandatory problem reporting (i.e., adverse event reporting), medical device manufacturers should keep in mind that reporting standards in Canada differ slightly from those in the U.S.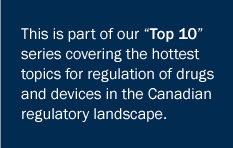 Manufacturers must report any incident occurring in Canada which (i) relates to a failure or deterioration of a medical device, or to a defect or inadequacy in the device labeling, and (ii) has led to the death or serious deterioration of health of a patient, or could do so if the incident recurs. Further, manufacturers must notify Health Canada of any such incidents occurring outside of Canada, if those incidents (iii) lead to a corrective action either taken voluntarily by the manufacturer or mandated by a foreign regulatory authority. Health Canada takes a broad view of what constitutes a "corrective action," which may include recalls, refurbishing or upgrading devices, updates or addendums to device labels or instructions for use, or some communications with customers.
Key Takeaways: Medical device manufacturers will want to bear in mind that devices that do not require product licensing in Canada (i.e., Class I medical devices) are also subject to mandatory problem reporting, including the reporting of incidents occurring outside of Canada. In view of Health Canada's broad view on "corrective actions," medical device manufacturers should maintain detailed records of adverse incidents and any actions taken in response.

Follow our FDL updates us on Twitter: @TorysFDL


Click here to subscribe to Torys' insights and updates