Circumstances are cultivating a welcome environment for foreign players planning to invest in Canada. The current Liberal government has signaled that Canada is open to global investment—and at the same time, nearly 18 months have passed since Canada's new regulatory regime for takeover bids took effect.
Although some predicted the new bid regime would have a chilling effect on hostile bids, targets in Canada continue to change hands at relatively the same pace as before. Together, these developments suggest foreign buyers are well-positioned to pursue growth opportunities in Canada.
Takeover bid rules changes
In May 2016, Canadian securities regulators overhauled the regulatory framework for takeover bids in Canada, intending to address concerns that target boards had limited ability to respond to hostile bids. Market perception was that Canada's regime was bidder-friendly, with unsolicited bids usually resulting in the target changing hands.
The rule changes intended to correct the perceived imbalances between target boards and bidders by giving target boards more time to react to an unsolicited approach, explore alternatives or convince shareholders to stay the course. The new rules introduced a minimum bid period of 105 days and require formal bids to include a mandatory 50 per cent minimum tender condition with a 10-day extension period if the minimum tender requirement is met.
Some market commentators predicted that as a result of these changes, fewer hostile bids and more proxy contests would be made. But the numbers tell a different story. Since the new bid rules were introduced, the number of unsolicited takeover offers to acquire a Canadian public company target has remained broadly consistent with activity levels recorded since 2013 (see below).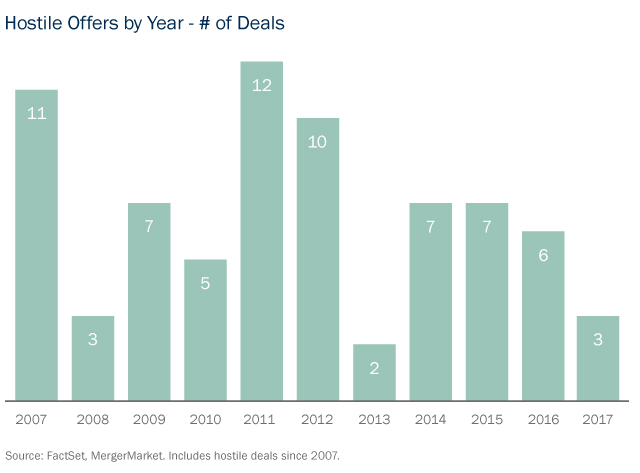 Despite the number the of hostile deals remaining relatively static, there has been a significant reduction in the size of companies targeted by hostile bidders, with the average deal size falling to U.S. $43 million year-to-date, from approximately U.S. $1.4 billion in the previous year (see below).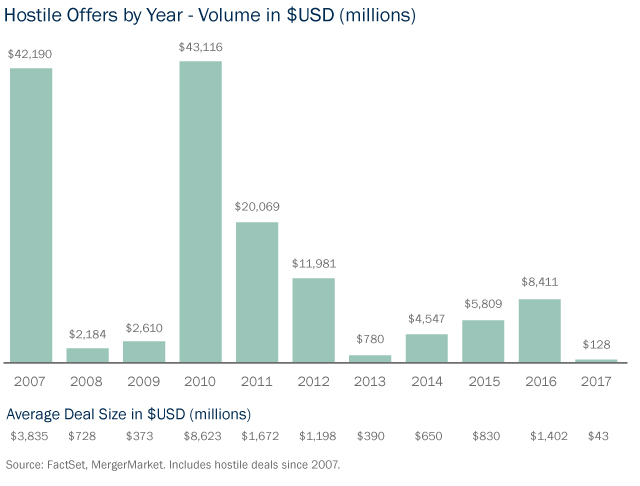 Meanwhile, the Canadian market has not witnessed the predicted spike in proxy contests. The data shows that there has been an ongoing decline in the number of formal proxy contexts since their peak in 2013: from 30 formal contests there was a total of 11 in 2016 (see below).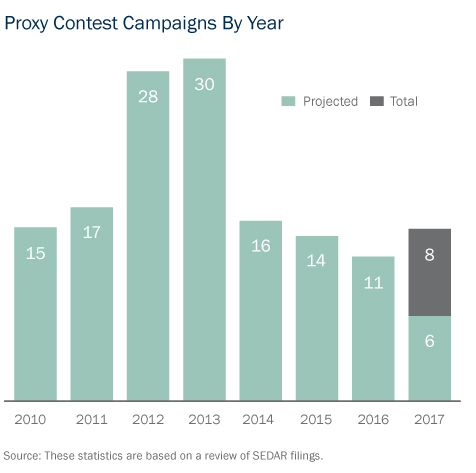 State-of-play of defensive tactics
A "just say no" defence is still unlikely to be successful in Canada as the data for unsolicited transactions continues to show the outcome of a Canadian hostile bid is almost always a change of control of the target, either in favour of the hostile bidder or a 'white knight'–that is, a friendly competing bidder. This suggests that the best defense to a hostile bid will be pursuing a higher value alternative transaction with a white knight.
Poison Pills. Under the old takeover bid regime, a poison pill was the most popular defensive measure against a hostile bid. Tactical poison pills are now no longer needed to provide target boards more to respond to an unsolicited bid in light of the 105-day period introduced under the new bid regime. However, target boards will continue to see the benefit of adopting a poison pill in order to regulate exempt purchases of target securities through creeping acquisitions and private agreement purchases, and prevent irrevocable lock-up agreements.
Private Placements. The securities regulators have recently considered the use of private placements as a defensive tactic for target boards. These decisions demonstrate private placements undertaken during the course of a takeover bid or proxy contest will be scrutinized closely by the regulators.
In Hecla Mining,1 the target undertook a private placement concurrently with an unsolicited takeover bid, which contemplated a dilution of existing target shareholders of approximately 43 per cent. While the regulators did not consider the private placement was an improper defensive tactic in this case, they established a principled and nuanced approach to reviewing board actions under National Policy 62-202 Take-Over Bids - Defensive Tactics, weighing whether a private placement has a corporate purpose against its effect as a defensive measure denying target shareholders access to a bid. As a result, target boards will struggle to defend the legitimacy of a private placement undertaken at the same time as a bid unless it clearly serves a financing need or other proper business purpose.
Outside of the takeover bid context, in Eco Oro2 the Ontario Securities Commission intervened to effectively neutralize a private placement undertaken during a proxy contest for corporate control of a Canadian issuer. The private placement had no apparent purpose other than to influence the vote at an upcoming shareholders' meeting. Significantly, the Ontario Securities Commission clarified that the policy considerations underlying National Policy 62-202 Take-Over Bids - Defensive Tactics are not only applicable to takeover bids but also to proxy contests.
Foreign investors are now more welcome with Trudeau government
The Liberal government's open approach to the review of inbound foreign investment means the foreign buyers are facing fewer regulatory hurdles on inbound investments.
Regulatory Landscape.
Under the Investment Canada Act, the government carries out "net benefit" reviews for transactions that exceed certain financial thresholds. It can also commence "national security" reviews in connection with virtually any investment. Under the previous Conservative government, both types of review were common, and an unprecedented number of deals were blocked, restructured or subjected to substantial undertaking commitments.
There are a number of signs that the Liberals are willing to accept more political risk by erring on the side of allowing investments.
The Liberal government has raised net-benefit review thresholds significantly, streamlined the approach to reviews of investments in certain "cultural" businesses, reversed a decision to block an investment on national security grounds and issued guidelines outlining the approach it will take to national security reviews.
Stephen Harper's former Conservative government showed a sensitivity to popular opinion and a particular concern about investors from China and certain other countries. High-risk investments typically involved national or provincial "champion" targets, such as BlackBerry, Potash Corp., Rona, TMX Group and Viterra, investors that were state-owned and investments in sensitive industries such as telecommunications, defence and financial services.
Justin Trudeau says he is "open to global investment" as long as it "respects and defends Canadian interests."
Liberal Approach.
"Net benefit" reviews have become much less frequent under the Liberals. The government has increased the review threshold more quickly than had been planned by the Conservatives, jumping earlier this year from $600-million in enterprise value to $1-billion. In addition, as of September there is a special higher threshold of $1.5 billion for investors from Europe, the US and other countries with which Canada has a free-trade agreement. This higher threshold could cut the number of net-benefit-reviewable transactions in half, if not more.
Unlike the Conservatives, the Liberals have not rejected any investments and the tone they adopt on specific transactions is generally positive. For example, the immediate government reaction to the recently announced Airbus investment in the Bombardier C Series aircraft program was: "on the surface, Bombardier's new proposed partnership with Airbus on this aircraft would help position the C Series for success by combining excellence in innovation with increased market access and an unrivalled global salesforce."
When it comes to Canadian cultural businesses, the Liberals are adopting a pragmatic approach. In particular, the introduction of a long-overdue streamlined process for review where the cultural component of the target business is of negligible importance suggests the process will typically be quick and any conditions reasonable.
National Security.
"National security" reviews have become more open and transparent with the issuance of guidelines for reviews. While the number of national-security reviews is unlikely to change—indeed they could become a focus of activity—heightened transparency should help foreign investors and Canadian businesses assess risk up front and enter into transactions with a clearer sense of the potential outcome. Government officials may also be more willing to discuss concerns openly with investors and to approve investments conditionally based on nuanced assessments of risk.
All of these changes are signs the Liberals are willing to accept more political risk by erring on the side of allowing investments. This became clear on the recent and controversial approvals of two investments from China, Anbang's acquisition of Retirement Concepts and Hytera's acquisition of Norsat. Both transactions were approved despite widespread negative media coverage. The latter transaction is particularly noteworthy, as it involved the acquisition of a company that manufactured satellite and telecommunications products for the defence industry. Among those expressing concerns about the deal were two former directors of the Canadian Security Intelligence Service.
Although the Liberals may adopt a more cautious approach in light of the controversy surrounding those two transactions and in the lead-up to the next federal election, for now they are providing foreign inbound investors with a more open and transparent future, one which could become the defining trait of Trudeau-era foreign investment review.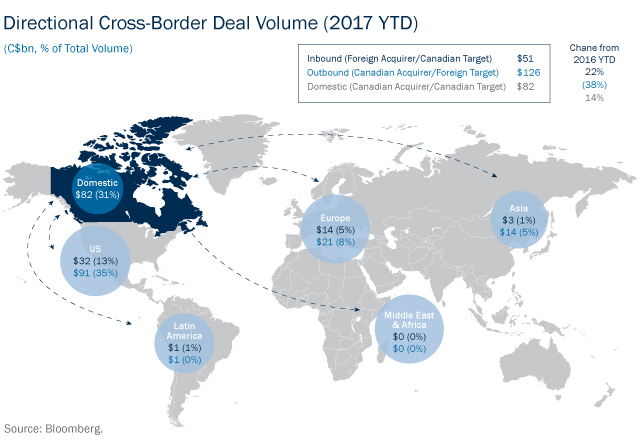 Since 2016, the level of foreign capital investment in Canada has increased by 22 per cent (see Graph 4).
Conclusion
While Canadian target boards have been afforded more leverage to deal with unexpected M&A approaches than in the past, hostile bids continue to be made and successfully completed under the new bid regime. With the right strategy and deal terms for shareholders, this regulatory environment together with the Trudeau government's positive outlook on foreign investment bode well for foreign acquirors.
_________________________
1 For details, see Torys' bulletin: "New Guidance on Private Placements as a Bid Defensive Tactic."
2 See Re Eco Oro Minerals Corp., 2017 ONSEC 23.
Read More From This Issue
Q4 | Fall 2017: Pressure Points
New technology, new rules and investor satisfaction are just some of the pressure points facing business leaders this year.