Where is Canadian oil and gas headed? Learn about the direction of the sector from industry experts, including our Calgary oil and gas team, in our Canadian Oil & Gas 2017 Outlook.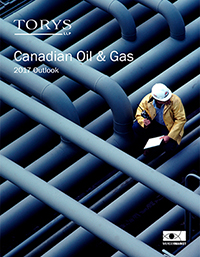 In partnership with Mergermarket, our report is a study surveying 100 senior corporate executives and investment bankers with recent Canadian oil and gas experience to gain their insight and predictions for the sector. The report also includes valuable insight from our team of experts on the ground in Calgary, as well as an in-depth article on how new carbon pricing initiatives in Canada are affecting oil and gas.
To discuss these issues, please contact the author(s).

This publication is a general discussion of certain legal and related developments and should not be relied upon as legal advice. If you require legal advice, we would be pleased to discuss the issues in this publication with you, in the context of your particular circumstances.

For permission to republish this or any other publication, contact Janelle Weed.

© 2021 by Torys LLP.
All rights reserved.