Shareholder activism continues to develop and expand in Canada. We are seeing continued growth in activity and influence from activists coupled with a decline in activist initiatives that reach the point of publicly disclosed proxy contests.
This is due to the increased willingness of directors and activists to engage constructively with each other rather than view their interactions as a "contest" in which either management or the activist "wins" with the other being the "loser."
Such constructive engagement is increasingly becoming the price that activists and incumbent boards must pay to win the support of traditionally passive institutional investors who are becoming more and more engaged in their portfolio companies and whose support will often be decisive to the success or failure of an activist campaign. The result should be more "wins" for shareholders.
While the number of formal proxy contests has been declining in Canada since a high point in 2012, shareholder activism is now a familiar part of the capital markets in Canada. And there is no sign that the pressure on boards will abate: FTI Consulting recently conducted a survey of 24 activist firms that found that 96% of activists believe that this activity will continue to increase, with primarily activist funds holding assets of US$169 billion and partially focused funds having an additional US$173 billion.1

The tactics of activists vary—some pursue "winner-take-all" control challenges and others work towards change through agreements with incumbent boards— but in each case there is a challenge to the status quo.
So who is "winning" this war these days, and what does the future hold? That depends on how you define success. There has been a decline in the number of formal proxy contests in Canada from 2012 to 2015 and it appears as if management has been able to hold its ground more often in the last two years. In addition, challenges are increasingly transactional—initiatives proposing operational change or implementation of specific transactions—rather than board/proxy control contests. There are also more instances of activist shareholders reaching a settlement with their target before getting to the stage of a formal proxy contest.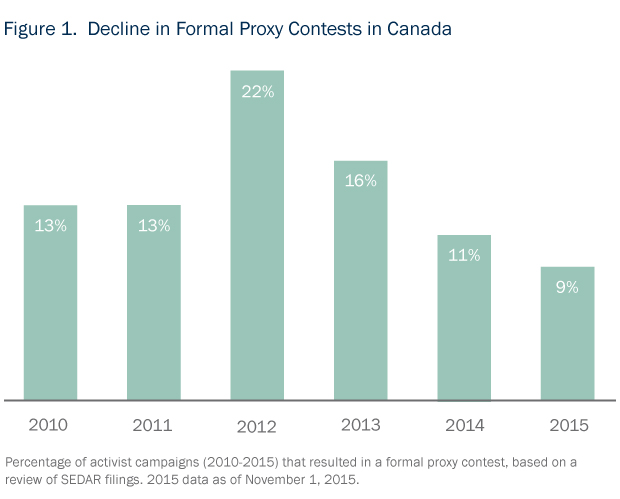 This could be interpreted as management starting to win. But those statistics only tell part of the story. Behind the statistics, the trend we are seeing is for management and boards to recast the battle, seeing this as an opportunity to engage in productive discussions with shareholders as the directors discharge their fiduciary duties. An activist's agenda may reflect "short termism" of a kind that no responsible board could support, but not always. Activists are often well informed and may be able to provide insights on strategy, market or other factors that the board and management should be considering. By engaging with such activists with a view to the best interests of the company, boards are able to settle disputes before they become formal proxy contests, contributing to the decline we saw in the number of publicly announced proxy contests in 2015.
Constructive board engagement with shareholders is increasingly important in the changing corporate governance landscape in which managements' traditional shareholder relations approach risks falling short of the governance expectations of institutional shareholders. Prudential institutional investors are abandoning their passive approach to their portfolio companies in favour of greater engagement, looking to maximize the value of their investments by focusing on improved corporate governance. The support of institutional investors requires boards to demonstrate their expertise, independence and willingness to engage constructively with shareholders, including activists who are pursuing shareholder-friendly agendas.
This approach was seen in Trian Fund Management, L.P.'s campaign to gain four seats on the board of E.I. du Pont de Nemours & Co (DuPont) earlier this year. DuPont succeeded in defending against Trian's campaign, and its success was reportedly due to its active engagement with investors, strong communication and execution of the company's strategic plan, and effective responses to criticisms made by Trian. DuPont's directors and senior management team were directly engaged in these initiatives, helping gain support of shareholders for a persuasive plan to grow shareholder value.
Where does this leave us when looking ahead to 2016? We think shareholder activism and increased engagement of institutional shareholders will continue. We also think we will see a continuing trend toward discussion, negotiation and agreement on business strategy, involving management, activists and other shareholders, forestalling hostile, formal proxy contests. The result will be more "wins" for shareholders.
_________________________
1 Source: The Shareholder Activists' View 2015, FTI Consulting. Available here.
To discuss these issues, please contact the author(s).

This publication is a general discussion of certain legal and related developments and should not be relied upon as legal advice. If you require legal advice, we would be pleased to discuss the issues in this publication with you, in the context of your particular circumstances.

For permission to republish this or any other publication, contact Janelle Weed.

© 2021 by Torys LLP.
All rights reserved.