Each year, Torys lawyers explore developments that will influence M&A in the year ahead. This year's 10 trends examine how dealmakers will work to find new investment opportunities, solve governance issues and close deals in 2016.
Read all 10 trends online or by accessing a full pdf version here, and view our Top Trends companion video below.
Overview
Investors are looking for new opportunities to use their capital, and the emergence in Canada of the special purpose acquisition company or "SPAC" is one example of this trend. Creative business collaborations are also driving deal activity: we expect more businesses will join forces with local investors, strategic partners and competitors to advance their strategic objectives.
M&A initiatives will continue to encourage the growth of Canadian investment outside Canada alongside emerging opportunities for foreign investors in Canadian assets. Attractive domestic targets will include distressed businesses in the oil and gas sector as the steep drop in oil prices and tightening of capital markets begin to take their toll.
Infrastructure is also drawing interest from investors. We expect competition in this space to increase among traditional infrastructure investors and private equity investors, who are both allocating capital to a broader scope of infrastructure investments, including businesses that support core infrastructure assets. Electricity businesses are especially drawing the attention of investors, as governments look to consolidate assets in this sector. In a special feature of this year's report, Ed Clark offers his unique perspective on public-private sector dynamics and what else lies in store for business in the year ahead.
The changing corporate governance landscape is influencing dealmaking as activists and management increasingly collaborate on improving shareholder value. This trend toward discussion, negotiation and agreement on business strategy will forestall hostile, formal proxy contests, resulting in more "wins" for shareholders.
Evolving governance practices can also be seen in executive compensation arrangements in M&A transactions as public scrutiny continues to grow. We predict that the focus of compensation practices in the deal context will shift from severance to retention and the long-term best interests of the company.
Other steps are also being taken to ensure the success of new business combinations. Early planning on tech-related issues and assets "in the cloud" are helping dealmakers close transactions successfully. More parties may also opt to resolve regulatory intervention on their transactions through litigation in order to get deals done.
Torys' M&A lawyers are looking ahead to 2016, and this is what they see.
Click below to download a PDF or read all 10 trends online using the navigation above.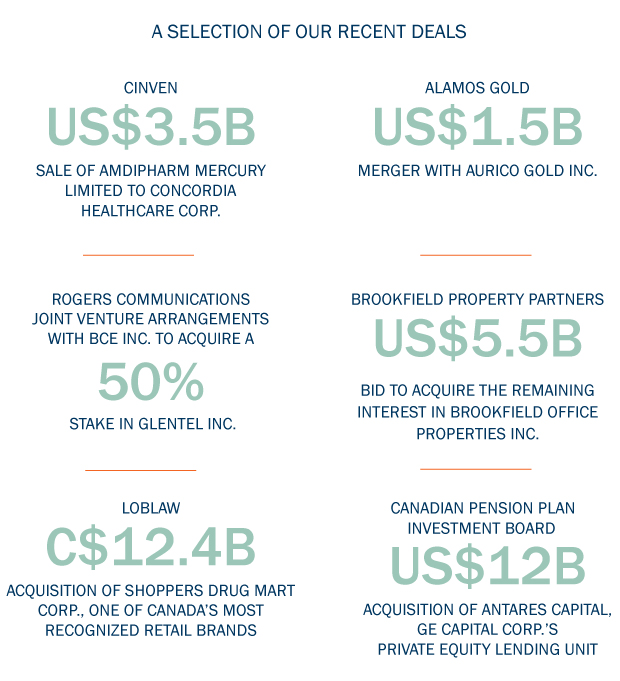 To discuss these issues, please contact the author(s).

This publication is a general discussion of certain legal and related developments and should not be relied upon as legal advice. If you require legal advice, we would be pleased to discuss the issues in this publication with you, in the context of your particular circumstances.

For permission to republish this or any other publication, contact Janelle Weed.

© 2021 by Torys LLP.
All rights reserved.