We are pleased to launch the 2015 Canadian Oil & Gas Outlook in partnership with Mergermarket. The report includes the results of a study examining industry players' perspectives on the current Canadian oil and gas environment. The study surveyed 100 senior corporate executives and investment bankers with recent Canadian oil and gas experience to gain their insight and predictions for the sector.
Introduction
The last year was a rollercoaster ride for players in Canada's oil and gas industry. Plummeting oil prices at the end of 2014 have put the Canadian oil and gas industry in a state of flux, with unique opportunities and challenges emerging in equal measure for corporates and investors.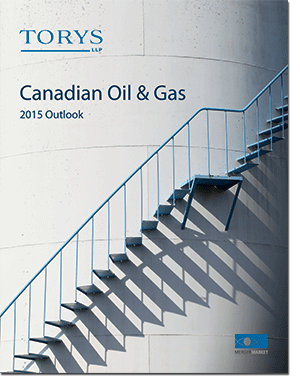 With these dynamics in play, Torys LLP presents its 2015 Canadian Oil & Gas Outlook, published in association with Mergermarket. Based on a series of surveys conducted in late 2014 with senior corporate executives and investment bankers working in the Canadian oil and gas market, this report offers a detailed analysis of a sector being redefined both by optimism about ongoing deal opportunities and wariness about the long-term impact of crude oil price declines, increasing costs and other factors.
Dealmaking embarked on by both domestic and international corporates reflects confidence that Canada's oil and gas market offers fertile ground for future growth, for shale in particular. The biggest energy deal of 2014, for example, saw Spain's Repsol announce its intention to acquire Talisman Energy for US$12.7 billion, a company which Repsol's CEO Josu Jon Imaz said was what Repsol wants in terms of geographical diversification and shale assets. A cold winter in Canada brought with it increased natural gas prices for Canadian producers, and Canadian oil and gas stocks rebounded 11% in the first quarter of 2014.
The survey, conducted in two parts in October and December 2014, provides two interesting snapshots of Canadian energy players' outlooks. In response to October's round of questions, respondents were bullish on Canadian energy M&A prospects in 2015. This, however, wasn't without certain reservations—for example, the impact of new environmental regulations.
Another round of questions in December revealed insight into the precipitous decline of oil prices, one of the big macroeconomic stories of 2014. The collapse in pricing curtailed M&A toward the end of the year, has already heralded calls for less production, and could eventually be a catalyst for increased shareholder activism. Respondents generally agreed that lower oil prices are a long-term reality, a situation that will affect energy producer balance sheets and likely be a depressive influence on new exploration and production (E&P) and distribution projects, such as pipelines. Alongside falling prices, other trends continue to affect the industry, including opportunities for consolidation of Canadian operations by US producers (including Devon and Apache) and potential foreign investment regulatory barriers under the Investment Canada Act, which remain top of mind for global investors interested in the Canadian oil and gas markets.
To download the PDF version of the 2015 Canadian Oil & Gas Outlook, click here.
To discuss these issues, please contact the author(s).

This publication is a general discussion of certain legal and related developments and should not be relied upon as legal advice. If you require legal advice, we would be pleased to discuss the issues in this publication with you, in the context of your particular circumstances.

For permission to republish this or any other publication, contact Janelle Weed.

© 2021 by Torys LLP.
All rights reserved.