Bidders will face more hurdles as Canadian rules are changing to empower targets. These changes come at a time of increased government skepticism about certain types of foreign investment and heightened popular and political concerns regarding foreign takeovers of domestic businesses. M&A deals in Canada will continue to get done, but acquirors will need to proactively tailor strategies to address emerging regulatory hurdles and a new wave of protectionism.
Empowering Boards: Canadian Takeover Bid Reform Evolves
There is a perception that Canada's takeover bid regime is "bidder-friendly" because once a Canadian company is put into play, it typically changes hands—either in favour of the hostile bidder or a white knight. Recent proposals by Canadian securities regulators were intended to address concerns about the limited ability of target boards to respond to hostile bids.
Board empowerment was at the core of the Québec securities regulator's 2013 proposal to overhaul Canada's defensive tactics policy. The regulator proposed to give target boards absolute discretion, absent abuse, to respond to an unsolicited bid. The Canadian Securities Administrators (CSA) released an alternative, more moderate proposal that would allow target boards to maintain a poison pill in the face of a hostile bid so long as shareholders approved the pill within 90 days.
On the heels of these proposals came the Québec Government's announcement in 2014 that it intended to give Québec boards significant tools to resist hostile bids. This was in the wake of Lowe's unsuccessful bid for Rona and public discontent with the hostile transaction. Recommendations included protective measures aimed at facilitating board entrenchment and restricting certain transactions associated with hostile takeover activity. The government's plan was to effectively build a take-over bid "firewall" surrounding Québec corporations. Since the recommendations were released, there has been a change in provincial power and we do not expect these recommendations to be implemented.
Securities regulators have now abandoned their competing initiatives, and are proposing a new framework intended to balance rather than eliminate the "pro-bidder" elements of Canada's takeover regime. When implemented, the new rules will extend the time that formal takeover bids must remain open to 120 days, giving target boards more time to respond to unsolicited approaches and seek value-enhancing alternatives. The rules will also require formal bids to include a 50% minimum tender condition with a mandatory 10-day extension period if the minimum tender condition is met.
Although details have yet to be released, this new framework continues to allow target boards to implement poison pills to curtail, for example, creeping acquisitions, or to deal with other special circumstances. We have seen recent examples of boards tailoring their poison pills by adopting non-standard terms to deal with specific approaches, including "voting pills" that are triggered not only by the acquisition of shares, but also by voting control arrangements. At this stage, it is unclear whether or when poison pills will attract regulatory intervention or if the CSA will take steps in the future to regulate their adoption. However, we would expect that the regulators would not generally permit a target board to maintain a poison pill if a bid has been accepted by a majority of disinterested shareholders and if the bid otherwise complies with the new takeover bid rules.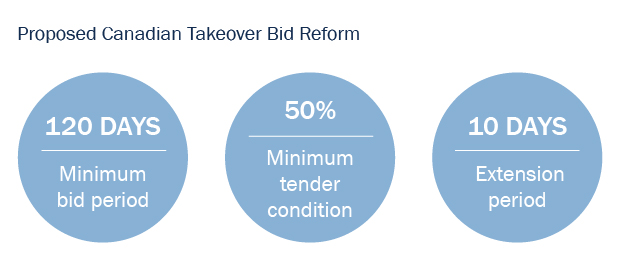 National Security Reviews
Coupled with the drive to empower Canadian target boards is a growing concern about the foreign acquisition of Canadian businesses by state-owned enterprises or certain investors from emerging markets—particularly acquisitions that may touch on national security concerns. A heightened sensitivity in Canada has led to a growing tendency to review transactions through a "national security" lens as well as an increase in political sensitivity around such deals. Industries particularly sensitive to increased scrutiny include natural resources—especially Alberta's oil sands—critical infrastructure, technology and media and communications.
Popular opposition to certain transactions is also buoying political intervention, with the Prime Minister's office regularly involved in foreign investment reviews. Standard "net benefit" reviews under Canada's foreign investment review legislation can now garner widespread publicity. Less well known are "national security" reviews being conducted in secret under the same statute.
Since 2009, the government has had the power to review virtually any investment, regardless of size, that it believes could be injurious to Canada's national security. While there are not many data points on these reviews, or real transparency, these reviews appear to be increasing in frequency. Only one national security review has resulted in a public rejection, but many more transactions are believed to have been abandoned in the face of government opposition.
The lack of transparency and guidance from the government can make risk assessment in these cases challenging. As a practical matter, investors and Canadian businesses ought to question both the nature of the foreign investor and the operations of the Canadian target. Does the foreign investor pose a threat? Would foreign control of a Canadian business create a security vulnerability in Canada (or in a close ally of Canada)? Foreign investments, particularly by state-owned, affliated or influenced enterprises, should as a routine matter always go through a national security risk assessment stress-test.
Impact of Bid Reform and National Security Reviews on Bid Strategy
Although government rejection of foreign acquisitions of Canadian businesses remains uncommon, the trend toward protectionism should not be overlooked. Foreign bidders pursuing an acquisition in Canada should proactively manage their M&A process, which may include the following steps:
more actively engaging with potential targets, as target boards will wield more leverage to negotiate a deal with the benefit of extra time;
adopting government and stakeholder-relations strategies from the outset—failure to do so may impinge on deal success; and
structuring negotiated transactions to minimize political concern and satisfy foreign investment review criteria—e.g., including national security risk allocation provisions or clearance as a condition precedent, or incorporating a reverse break fee to be paid in the event of a negative outcome.
The Threat of Protectionism: More Rhetoric Than Reality?
Concerns with foreign acquisitions of certain domestic businesses form part of a broader global trend, as illustrated with recent high-profile cases such as Pfizer/AstraZeneca and GE/Alstom.
In Canada, despite the perception of increased protectionism following regulators' steps to empower boards, and foreign acquisitions becoming highly politicized in certain instances, we expect the outcome of hostile bids under the new regime to likely remain the same—albeit with more breathing room for targets and some adjustment to bidders' strategies. Similarly, although in the current environment certain foreign investments pose higher approval risks under the Investment Canada Act, most transactions are still approved in the normal course and the government is still seeking to facilitate those transactions.
Regardless of this tempered outlook for protectionism in Canada, we expect that these latest developments will certainly sharpen foreign bidders' deal-planning efforts in the year ahead.
To discuss these issues, please contact the author(s).

This publication is a general discussion of certain legal and related developments and should not be relied upon as legal advice. If you require legal advice, we would be pleased to discuss the issues in this publication with you, in the context of your particular circumstances.

For permission to republish this or any other publication, contact Janelle Weed.

© 2021 by Torys LLP.
All rights reserved.