The use of special committees of independent directors has long been a feature of both Canadian and U.S. M&A practice as a means to address conflicts in related party transactions. It is well established that if a special committee approves or recommends a transaction, this may help in defending the transaction against attack from minority shareholders or securities regulators. However, the special committee process requirements to qualify for deference from courts or regulators and the degree of deference that will be shown have been subjects of legal debate.
Recent developments in Canada and the United States confirm the utility of special committees in related party transactions and emphasize the importance of their being broadly empowered for the transaction to qualify for the most deferential treatment from courts and regulators. As a result, we expect to see a more prominent role for special committees in related party transactions, with a potentially significant effect on deal dynamics.
The leading development in the United States was the recent landmark decision of the Delaware Court of Chancery in In Re MFW Shareholders Litigation. The Court held that a freeze-out merger with a controlling shareholder that was conditioned from the outset on (i) negotiation and approval by a fully empowered special committee of independent directors, and (ii) approval by an uncoerced and fully informed vote of a majority of the minority shareholders would qualify for the most deferential standard of review – the business judgment rule standard – rather than be subject to the more exacting "entire fairness" standard.

This is extremely important in the U.S. litigation context. It means that a strike suit attacking the transaction can be dismissed by summary judgment, depriving plaintiffs of the leverage they would otherwise have to extort a settlement as the price of removing the litigation obstacle to consummate the transaction.
The Court held in MFW that to get the benefit of the most deferential standard of review, the special committee process leading up to an affirmative vote of a majority of the minority shareholders must satisfy the following significant preconditions that concern the efficacy of the special committee as a bargaining agent on behalf of the minority:
independence: committee members must be free of conflicts;
broad empowerment: the committee must have the power to negotiate, including to definitively say no to a transaction (not just review it and make a recommendation), and to select its own advisers freely;
satisfaction of duty of care: in evaluating, negotiating and agreeing to a transaction, the committee must act on a fully informed basis.
In Canada, the legal framework for related party transactions has been largely prescribed by securities regulators rather than by the courts, through Multilateral Instrument 61-101, Protection of Minority Security Holders in Special Transactions, and its Companion Policy and through the regulators' intervention in transactions under their public interest jurisdiction.
Multilateral Instrument 61-101 compels the formation of a special committee of independent directors only in limited circumstances. However, the Companion Policy and the regulatory jurisprudence (most notably, Re Magna International Inc.) express both the expectation of regulators that special committees will normally be used in related party transactions and their view that for a transaction to qualify for deferential treatment based on the involvement of a special committee, process standards consistent with those articulated in MFW must be met. Ontario securities regulators have indicated that rule changes are coming to mandate such process requirements for related party transactions.
As a result of these developments, we expect to see special committees play a more prominent role in related party transactions, with their role shifting from overseeing negotiations and evaluating the resulting deal to one of directly negotiating the transaction. Special committee mandates will also be broader, reflecting the expanded authority of the special committee.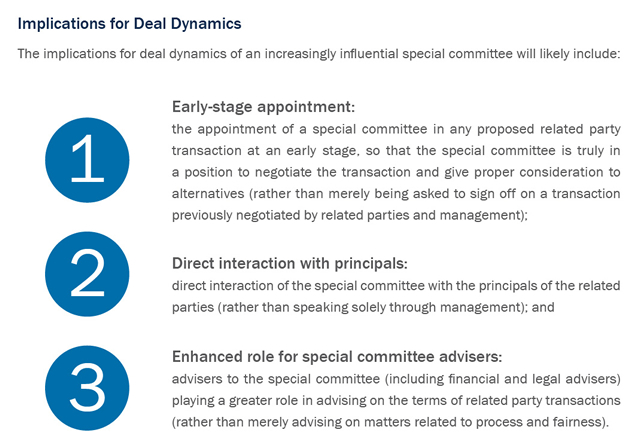 To discuss these issues, please contact the author(s).

This publication is a general discussion of certain legal and related developments and should not be relied upon as legal advice. If you require legal advice, we would be pleased to discuss the issues in this publication with you, in the context of your particular circumstances.

For permission to republish this or any other publication, contact Janelle Weed.

© 2021 by Torys LLP.
All rights reserved.