Overview – Capital Markets in 2012 in North America and Beyond
If uncertainty in the capital markets is not the new normal, it has at least persisted for several quarters. Many of the themes that clouded the outlook for the markets in mid-2011 remain the same for mid-2012: European stagnation; political debate between austerity and stimulus; concerns about the lack of consumer spending in China; and in Canada, the uncertain future ownership of the TSX. On May 31, 2011, the S&P/TSX Composite closed at 13,802 points; on May 31, 2012, it closed at 11,513 points.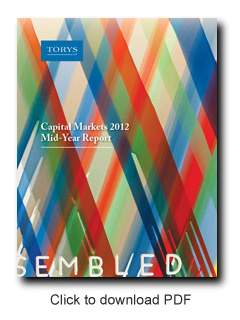 Recent elections in Europe, the pending election in the United States and the likelihood of fiscal and monetary stimulus in China point to a policy shift to emphasize growth at the expense of austerity, later in the year. Equity markets may enjoy a corresponding rebound at that time. In the meantime, as in 2011, Canadian investors have continued to favour issuers with high yield and predictable earnings.
Canadian regulators have sought to address issues of fairness and transparency in the Canadian market. The Ontario Securities Commission's emerging-market review is aimed at enhancing investor confidence, as the TSX continues its efforts to attract listings from across the globe. The Canadian government is taking steps to ease federally regulated financial institutions off their reliance on federal guarantees to support their financing needs.
In the United States, the federal government has sought to alleviate some of the expense and complexity of the daunting U.S. IPO process by passing the JOBS Act. The relative simplicity and condensed timing of the Canadian public offering process is demonstrated by the case of an unsolicited bidder accessing the public debt markets within the time frame of a takeover bid. Canadian retail investors' thirst for predictable yield products has been sated, in part, by issuers investing in foreign business or income-producing assets that are excepted from the definition and tax regime associated with SIFT trusts. While capital raising on stock exchanges is relatively slow, capital raising for infrastructure transactions is growing and poised to increase dramatically. For Canadian banks, the implementation of the Basel Committee's requirements on non-viable contingent capital looms on January 1, 2013, but as yet there has been no first mover.
Each of these issues is discussed in detail in this report, and we hope you find this analysis of interest. Torys lawyers – in Toronto, New York and Calgary – would be pleased to discuss any of these topics with you.
Basel III Revisited – Why Has No Canadian Bank Issued Non-Viable Contingent Capital?
In this article, the author suggests several reasons why banks have not yet complied with Basel requirements regarding NVCC instruments. > Read further details about these reasons

Cross-Border Income Funds – A Panacea for Real Estate Investment Trusts?
In this article, the authors explain the rules regarding CBIFs, concluding with the answer to their own question. > Read the whole discussion

Emerging-Market Companies – These Companies Will Face Increased Regulatory Scrutiny When Accessing Canadian Capital Markets
In this article, the authors discuss the regulators' concerns and recommendations regarding emerging-market issuers. > Read further about these matters

The JOBS Act – Incentives for Raising Capital in the United States and Implications for Canadian Issuers
In this article, the authors discuss the significance of this Act and how it changes the landscape of securities regulation. > Read more about this issue

Extendible Convertible Debentures – Bidders Will Access Public Debt Markets to Finance Unsolicited Takeover Bids
In this article, the authors consider the issues involved in various financing options for takeover bids. > Read the details

CMHC Insurance and Covered Bonds – What Will Happen When the Training Wheels Come Off?
In this article, the authors discuss the latest issues surrounding mortgage insurance and financing. > Read more about these issues

Infrastructure Transactions – Projects Offer an Expanding Role for Capital Markets
In this article, the author talks about the growing need for investment in infrastructure and provides recent examples. > Read the details
_________________________
Torys' Corporate and Capital Markets Practice
Torys LLP is entrusted to advise on our clients' most significant transactions. We are known for delivering high-quality capital market services in both Canada and the United States.
We provide a broad range of services to clients in all major industrial sectors, and we are regularly retained by governments and regulatory authorities to provide advice in developing and implementing major policy initiatives. Our longstanding relationships with our clients endure through generations. And with the expansion of our Calgary office, we are now uniquely positioned to provide our clients with valuable insights into several new sectors, including Canada's emerging global oil and gas markets.
The lawyers in our cross-border Corporate and Capital Markets Practice have particular expertise as both lead transaction counsel and strategic advisers in structuring and implementing sophisticated, innovative financing transactions, as well as traditional financing deals, in domestic and international capital markets.
Our practice is highly ranked globally by various sources, including Bloomberg,IFLR, Chambers Global, Mergermarket, Thomson Reuters and Lexpert, particularly for our lawyers' world-leading expertise and our exceptional bench strength.
For further information about our Capital Markets Practice, please contact us.
To discuss these issues, please contact the author(s).

This publication is a general discussion of certain legal and related developments and should not be relied upon as legal advice. If you require legal advice, we would be pleased to discuss the issues in this publication with you, in the context of your particular circumstances.

For permission to republish this or any other publication, contact Janelle Weed.

© 2021 by Torys LLP.
All rights reserved.