The year 2011 saw a record number of spinoff transactions as companies searched for ways to return value to shareholders in the face of challenging market conditions. Assuming these conditions hold, as seems to be the market consensus, we think spinoffs will continue to be an important trend in 2012.
Companies continue to struggle to create value through increased revenues and earnings, which have historically translated into stock price increases. In the current environment, many companies believe that they are not being adequately rewarded for solid financial performance and that they will be unduly punished if they fail to meet expectations.
Companies have traditionally relied on M&A strategies to pursue growth. However, recent market volatility has made valuation challenging, which in turn is making it difficult for companies to buy and sell assets. In particular, the broad IPO market has been stagnant for some time, effectively ruling out IPOs as an option except in very limited circumstances. In addition, although credit markets are open, they have been volatile, and lenders are requiring borrowers to contribute increasing amounts of equity.
Boards of directors are also under increasing pressure from investors, who are themselves under pressure to deliver returns. At one time, activism was limited to hedge funds and other investors focused on short-term returns. That is no longer the case. Institutional investors, including many of the large Canadian pension funds, have become increasingly vocal and effective in pressing boards of directors and management of public companies to consider changes to corporate strategy and direction. In the past, these organizations focused primarily on corporate governance and disclosure. Many of the recently announced spinoff transactions followed investor demands that companies consider optimizing their business portfolios (e.g., to separate high-growth businesses from low-growth businesses or to move similar sets of assets into distinct publicly traded entities).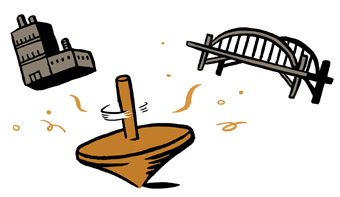 Spinoffs can be undertaken in a variety of circumstances. Some are breakups in which the company is divided into two or more major public companies. Others involve a company distributing a segment of its business that is no longer core to its overall strategy or valued by investors; the expectation is that the business will benefit from more focused management and be more attractive to investors as a stand-alone company.
In Canada, a significant amount of spinoff activity has taken place in the mining and resource sectors, where it is common for companies to distribute assets to shareholders as part of a buyout transaction. Although there are examples of significant spinoff transactions in which the company itself has been broken up, those transactions have not been as common as in the United States. This is likely in part because there are fewer large companies in Canada with multiple business lines that would be viable as stand-alone public companies. In addition, a number of the largest Canadian companies have controlling shareholders with long-term investment horizons.
Although spinoff transactions do not require a company to negotiate price and other deal terms with a third party, many complex legal issues need to be considered. Some of the major ones are discussed below.
Board decision making. The board of directors must be satisfied that a spinoff is in the long-term best interests of shareholders and other stakeholders. The benefits and burdens of the spinoff need not be shared equally among affected stakeholder groups; however, the board must strive to treat all groups fairly, balancing their respective interests in light of their legal rights and reasonable expectations. It is not enough that a spinoff may result in an immediate boost in the company's share price or may placate shareholder activists. On one level, there is less pressure on a board's decision to spin off a business because all shareholders continue to have the same pro rata interest in the assets and corresponding liabilities of "spinco" as they did in the distributing company. Nevertheless, a spinoff can bring a fundamental change in the nature of the company. While the board may receive advice from financial experts on the merits of the spinoff, there will be uncertainty as to how the stocks of the two companies will trade afterward. These and other factors make the decision to spin off a business both complex and challenging.
Separation of assets, liabilities and people. Management and advisers will need to undertake thorough due diligence of the company's business in order to decide how to separate the assets and liabilities of the two companies. Those decisions are significant because they may affect each company's growth prospects and risk profile. Some assets are difficult, if not impossible, to divide. For example, the goodwill associated with a name brand may constitute a key part of the value of both businesses. In addition, if the company has been financed on a consolidated basis, it will be necessary to apportion outstanding debt between the two companies. This may require lender consent or even a refinancing of the debt. Decisions will also have to be made as to how members of the management team will be allocated between the two businesses. A spinoff of a business may raise issues under a company's employment contracts, collective agreements and pension plans.
Matters affecting business prospects. Since a spinoff results in the creation of two independent, publicly traded companies, it tends to give rise to business and legal conflicts that the board and management must resolve. For example, there may be a need for arrangements to be put in place between the two companies to deal with asset sharing, indemnification for liabilities that cannot be transferred, shared services and the division of business opportunities, including non-competition agreements. Although there is no third party to negotiate such issues, the board must consider and balance the interests of stakeholders who may be affected, such as creditors. The manner in which the issues are dealt with will need to be disclosed and can have a significant effect on the value of each company.
Management compensation. A spinoff will require modifications to management incentive arrangements – for management of both companies. Copying existing arrangements may not be appropriate because the business and risk profiles may be quite different once the companies are separated. A spinoff will often trigger mandatory adjustments under option and other incentive plans, and the adjustments may be predetermined or left to the discretion of the board. In either case, the board must ensure that, in approving the spinoff, the arrangements are fair and continue to provide appropriate incentives for the management of both companies.
Securities regulation. Securities laws in both Canada and the United States require companies to provide extensive disclosure to shareholders in connection with a spinoff transaction. The nature and extent of regulatory review will depend on the circumstances. Preparing the required disclosure can be challenging, especially if spinco will have a different business and risk profile. In addition, the level of materiality for disclosure purposes for the separated businesses will often be significantly lower than for the businesses together. And although the board of spinco is often not in place until after the disclosure is settled, the directors on that board will be responsible for it and must live with it afterward.
Tax. In both Canada and the United States, a spinoff may be accomplished in a manner that is tax-free for both the distributing company and its shareholders, provided that certain detailed requirements are satisfied.
In Canada, a tax-free spinoff is accomplished through a "butterfly" reorganization that generally requires a number of steps to be implemented as part of a court-approved plan of arrangement. Companies typically proceed only after obtaining a favourable advance income tax ruling from the Canada Revenue Agency, a process that can take up to six months or longer. The butterfly reorganization rules are complex and there are transactions and events that could cause the spinoff to fail to qualify as a tax-free transaction. There are numerous actions a company must not take while considering a butterfly reorganization. Similarly, certain actions that happen after the butterfly reorganization and that could be viewed as being part of the same series of transactions would cause the spinoff to fail to qualify as a tax-free transaction. In particular, a change of control (an acquisition, for example) must not take place for either spinco or the distributing company as part of the series of transactions.
In the United States, the primary requirement is that the distributing company must "control" the company being spun off before the spinoff (an 80% vote and value test) and must distribute all the stock and securities in the controlled company or enough stock to constitute control. After the spinoff, both the distributing company and spinco must be engaged in a business that was actively conducted throughout the five-year period before the distribution and was not acquired within the five-year period in a taxable transaction. Furthermore, the transaction must not be used as a device for distributing the earnings of either the distributing or the controlled company and must be undertaken for a substantial corporate business purpose. If certain "disguised sale" rules apply or either the distributing or the controlled company is acquired after the spinoff under a plan or series of related transactions, the spinoff will be taxable to the distributing corporation, though not to its shareholders. If the spinoff fails to qualify as a tax-free transaction for other reasons, it is taxable to both the distributing company and its shareholders. Many taxpayers seek a private letter ruling from the Internal Revenue Service before the transaction takes place. However, the IRS generally does not rule on certain aspects of a spinoff, including the device or business purpose requirements.
To discuss these issues, please contact the author(s).

This publication is a general discussion of certain legal and related developments and should not be relied upon as legal advice. If you require legal advice, we would be pleased to discuss the issues in this publication with you, in the context of your particular circumstances.

For permission to republish this or any other publication, contact Janelle Weed.

© 2021 by Torys LLP.
All rights reserved.