Leveraged buyout activity picked up in 2011 and is expected to increase in 2012. Although the market has not quite returned to the frothy levels of 2006–2007, the past year saw an increase in large buyouts, including several multibillion-dollar deals. A significant portion of these buyouts reflected a club-deal structure whereby private equity sponsors invited one or more of their limited partners to invest directly in the deal.
Canadian pension funds were particularly active participants in these transactions. For example, the going-private of Kinetic Concepts saw the Canada Pension Plan Investment Board and the Public Sector Pension Investment Board invest alongside Apax Partners in a US$6.3 billion transaction that was one of the largest LBOs since the Lehman bankruptcy.
While LP co-investments in LBOs are by no means a new phenomenon, we think that the market climate of 2012 will continue to be conducive to these types of deals.

Drivers
We believe that continued growth of LP co-investments in large LBOs is driven by three main factors.
First, the amount of equity that a private fund sponsor can utilize in any one deal has shrunk as a result of volatile financing markets and the more challenging fundraising environment. After a short renaissance of 2006–2007 activity levels and financing terms during the first half of 2011, acquisition financing markets turned for the worse following the U.S. credit downgrade and the deepening eurozone debt crisis. As a result, equity contributions have increased to around 45% on recent large LBOs and even higher percentages on some mid-market transactions.
At the same time, private equity fundraising is down significantly from the all-time highs of 2006–2007. As overall fund sizes have shrunk, so have the amounts that private equity sponsors can put to use on any single deal. With less acquisition financing available and smaller amounts of equity that can be deployed, transactions that once were within a fund's reach have become more difficult to execute without a deep-pocketed LP providing additional funding.
Second, many private equity sponsors are in active fundraising mode, despite the challenging macroeconomic environment. As competition for LP investment dollars has intensified, offering co-investment opportunities to an LP is often an important inducement to locking up a commitment to a new fund.
Third, certain LPs – and particularly certain Canadian pension funds – have expanded their internal infrastructure, staffed up and geographically diversified their investment teams. As a result, these LPs are now seen as value-added partners that can bring more than just money to an investment opportunity.

The Perspective of the Limited Partner
For LPs, co-investments translate into an opportunity to deploy large amounts of capital without having to pay carry fees (typically 20% of gains) and management fees. Putting large sums of money at play without subjecting the returns to these fees can be attractive to larger LPs that have developed the internal infrastructure to manage these types of investments.
In addition, co-investing results in increased exposure to deal making generally, allowing LPs that wish to expand their internal capabilities to gain valuable deal experience. Anecdotally, some LPs are actively seeking co-investments in particular sectors to enable them to deepen their expertise in a targeted manner – a strategy that may give these LPs a leg-up for future co-investments in the same sector. Finally, getting a seat at the deal-making table permits LPs to see first-hand how their general partners are actually making investments, which in turn may inform their future fund investing.

The Perspective of the Private Equity Sponsor
For sponsors, co-investing with LPs is an attractive proposition for several reasons.
As noted above, letting LPs contribute sizable amounts of equity on a direct basis may go a long way in the next fundraising cycle and may enable sponsors to do deals that otherwise would be out of reach because of diversification limits, the lack of debt financing, or both.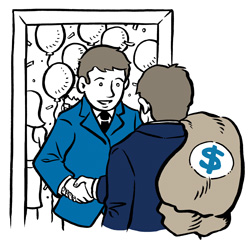 In addition, equity arrangements for club deals with LPs are frequently easier to pull together than for club deals with two or more private equity sponsors. Following the announcement of the Kinetic Concepts transaction, The Wall Street Journal quoted a senior private equity executive as saying, "If you can partner with a friend rather than a competitor, why not do that?"
Indeed, consortium arrangements for private equity club deals of 2006 and 2007, in which several private equity sponsors teamed up, were often difficult to negotiate because there were too many diverging views on governance arrangements, strategy and exit. Well-funded pension fund LPs may bring a longer-term investment horizon to the table, making them more flexible partners for private equity sponsors.
Similarly, by teaming up with LPs rather than other sponsors, private equity sponsors can avoid a tug-of-war over who can claim the deal for track-record purposes.

The Devil Is in the Details
Despite their many appeals, GP-LP club deals can present complexities that are not ordinarily encountered in other consortium transactions.
For one, regulatory provisions to which some LPs are subject, and/or tax considerations, can present structuring issues that may not be encountered in sponsor club deals.
As well, large LBOs – especially those involving U.S. targets and financing – tend to attract litigation. Much of this is of the garden-variety type, but given uncertainty in the financing markets no one can dismiss the possibility of a replay of the very public court battles among targets, sponsors and financing sources that occurred during and after the credit crisis. LPs, particularly those that owe a fiduciary duty to a public constituency, may have less appetite for being dragged into deal litigation than private equity sponsors.

Outlook
The benefits of LP co-investments are increasingly recognized and appreciated by deal-making professionals, both on the limited partner and on the sponsor side. We believe that LP co-investing can be a win-win proposition and that the stars are well aligned for more GP-LP clubs in 2012.
To discuss these issues, please contact the author(s).

This publication is a general discussion of certain legal and related developments and should not be relied upon as legal advice. If you require legal advice, we would be pleased to discuss the issues in this publication with you, in the context of your particular circumstances.

For permission to republish this or any other publication, contact Janelle Weed.

© 2021 by Torys LLP.
All rights reserved.