We are proud to be sponsoring the Munk Dialogues this fall as we head toward the November U.S. election. In concert with the Munk Dialogues' focus on discussions with prominent political commentators on the potential implications of the election, our New York team will be sharing their insights on what companies will want to consider.
Torys New York commentary
The 2020 U.S. election: what's at stake?: M&A activity and infrastructure, tax and regulatory considerations—our team shares their insights spanning the spectrum of business issues set to be affected by the outcome of the U.S. election.
Prospects for the U.S. federal courts: In this article, we discuss how the Trump Administration's nominations to the federal courts will have a serious influence on the direction of the U.S. judiciary, as well as the implications for business—from antitrust and securities, to environmental and foreign investment issues.
Credit markets and the U.S. 2020 election: This article takes a look at the current state of the credit markets in the current economy, and what may lie ahead for regulatory decision-making differences between presidential candidates and the impact that will have on the credit markets going forward.
Taking on TikTok: CFIUS on the front page (and in the fine print): In this article we look at U.S. foreign investment strategy and examine the Trump administration's current approach through the lens of the latest developments with TikTok.
Current observations of the effects of COVID-19 on private fund sponsors and limited partners: The private equity sector has been adapting strategy to ongoing economic uncertainty, market volatility, and regulatory changes as a result of the pandemic. Read our analysis of the latest trends and developments in the sector.
Munk Dialogues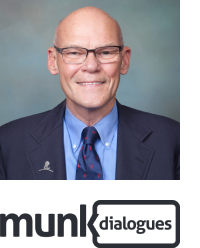 Join us October 28 for the fifth instalment of the Munk Dialogues in its U.S. election series, featuring U.S. Democratic Party stalwart, political strategist, and bestselling author, James Carville, in a discussion of the potential outcome of the election.

Click here to watch the October 28 Munk Dialogue. The event will live stream at 8 p.m. EDT on October 28. After October 28, the Dialogue will be available as a video.