For many businesses, returning to the on-site operations after COVID-19 will not be as simple as reverting to pre-pandemic routines. Business leaders have a host of decisions and considerations in what's likely to be a new in-office experience. Join us for this series as we explore answers to the important questions decision makers should consider as they build their plan for returning to the office.

Regardless of whether your organization plans for a full-scale return to the in-office working environment or decides to commit to remote work arrangements in the post-COVID era, effective communication and change management will be critical to employee buy-in. This session will explore legal and practical issues in managing a successful transition to your organization's "new normal".
12:00 p.m.–1:00 p.m. EDT presentation
11:45 a.m. webinar opens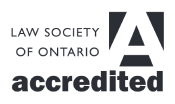 New York: This program contains 1.0 Areas of Professional Practice Credit.
Ontario: This program is eligible for 30 Substantive minutes and 30 Professionalism minutes.
Other sessions in this series:
The importance of change management