For many businesses, returning to the on-site operations after COVID-19 will not be as simple as reverting to pre-pandemic routines. Business leaders have a host of decisions and considerations in what's likely to be a new in-office experience. Join us for this series as we explore answers to the important questions decision makers should consider as they build their plan for returning to the office.

More than 12 months of remote work has resulted in various schools of thought about whether employees need to be physically present in the same place to conduct business optimally. This session will explore different philosophies and expected trends around remote versus on-site working environments. Our panel will address issues like attraction and retention of talent, real estate considerations, productivity, performance management and impact on diversity and inclusion goals.
12:00 p.m.–1:00 p.m. EDT presentation
11:45 a.m. webinar opens
Click here to register.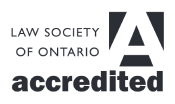 New York: This program contains 1.0 Areas of Law Practice Management credit.
Ontario: This program 1.0 Professionalism hour.
Other sessions in this series:
Dealing with different return-to-office philosophies