Join all of us here at Torys for our Winter wellness professionalism series: thriving through challenging times. A line-up of expert speakers will provide actionable insights to help guide you through the winter months of the pandemic and emerge on the other side ready to thrive.

Resiliency is a core resource needed now more than ever to help us stay productive and healthy through this difficult time and come out stronger on the other side. Dr. Robyne Dafoe-Hanley is an award-winning speaker, writer and educator who specializes in resiliency, navigating stress and change, and personal wellness in the workplace. She will share practical strategies and micro-habits grounded in global research that are actionable immediately to help to foster resiliency within ourselves and others.
2:00 p.m. – 3:00 p.m. presentation
1:45 p.m. webinar opens
Speaker: Dr. Robyne Hanley-Dafoe
Ontario: This program is eligible for 60 Professionalism minutes.
New York: This program contains 1.0 Law Practice Management credit.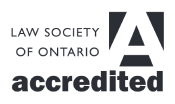 Other sessions in this series:
Resilience in uncertain times, with Dr. Robyne Hanley-Dafoe