Join us as we explore the latest thinking on ESG factors with leaders in the field, bringing together Torys lawyers from across practice areas as well as external guest speakers. We will discuss current developments in organizational governance, new strategies emerging around ESG investment, sector-specific trends and more.

As greater emphasis is placed on ESG, incorporating Indigenous perspectives and engagement needs to remain top of mind. Join this panel of industry leaders as they discuss the importance of having these conversations in the context of ESG.
9:15 a.m. - 10:15 a.m. presentation
8:45 a.m. webinar opens
Guest speakers: Niilo Edwards, Executive Director, First Nation Major Projects Coalition
Mark Podlasly, Director, Economic Policy, First Nations Major Projects Coalition
Amber Brown, ESG and Sustainability Analyst, National Bank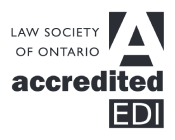 New York: This program contains 1.0 Diversity, Inclusion and Elimination of Bias credit.
Ontario: This program is eligible for 60 Equality, Diversity and Inclusion professionalism minutes.
Other session in this series: