Join all of us here at Torys for our winter wellness professionalism series: thriving through challenging times. A line-up of expert speakers will provide actionable insights to help guide you through the winter months of the pandemic and emerge on the other side ready to thrive.

Join CAMH Senior Medical Advisor, one of Canada's leading psychiatrists, an award-winning lecturer, author and mental health advocate Dr. David Goldbloom as he shares his expertise on mental illness: what it is and isn't, its prevalence, who is at risk and its impact on our lives professionally and personally. Dr. Goldbloom will share his expertise on how the pandemic is affecting mental health, barriers to getting help and insights for supporting mental wellness.
2:00 p.m. – 3:00 p.m. presentation
1:45 p.m. webinar opens
Speaker: Dr. David Goldbloom
Ontario: This program is eligible for 1.0 hour of Equality, Diversity & Inclusion (EDI) Professionalism content.
New York: This program contains 1.0 Diversity, Inclusion & Elimination of Bias credit.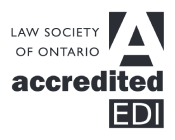 Other sessions in this series:
Mental health: stigma, reality and hope, with Dr. David Goldbloom