Join us as we focus on four character-based traits that are essential to effective leadership. Through the lived experience and expertise of our guest speakers, we explore lessons in integrity, ways we can be more open in engaging with others, how to harness the power of resilience, and what we should be doing to encourage inclusivity within our organizations.

Mastering openness: the synergistic leader
Why do we gravitate towards colleagues who share our own language, assumptions and modus operandi when competitive industries call for varied experience? Tiziana Casciaro, Professor of Organizational Behavior at the University of Toronto, unpacks recent scientific research that highlights the skills and strategies required to seamlessly integrate diverse expertise and lead client work across silos.
11:45 a.m. Lunch
12:00 - 1:00 p.m. Discussion
Ontario: This program is eligible for 0.5 Professionalism and 0.5 Equality and Inclusion hours.
New York: This program is eligible for 0.5 Practice Management and 0.5 Diversity and Inclusion hours.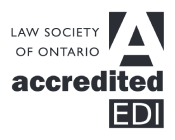 To register for this event please email, universitorys@torys.com. Space is limited!
To view all sessions in this series, click here.