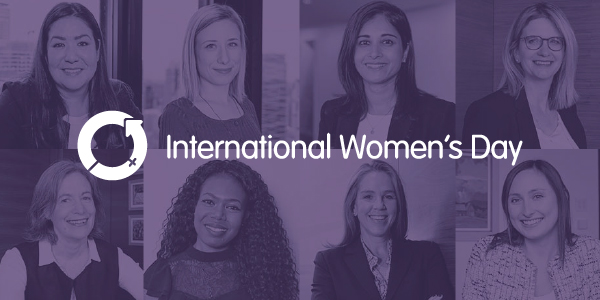 Torys is proud to celebrate International Women's Day on March 8. The 2020 theme for International Women's Day is #EachforEqual, encouraging people to take action for equality and raise awareness against bias.
Giving back
This year, we are partnering with two organizations—Threads and Dress For Success. Threads is a women-owned and operated small business selling high quality tights and nylons directly to consumers. Dress For Success is a not-for-profit organization aimed at empowering women in their transition from unemployment to economic independence.
Being bold
As part of our celebration of IWD this year, we asked women at Torys the question "What advice would you give on how to be bold and step out of your comfort zone?" Below are a few notable quotes of what they shared. You can watch all of our video clips on the Torys Twitter account throughout the week.
"…if it's something you really want to do, say yes, and figure out all the other stuff later. We are more agile than we give ourselves credit for." (video)
- Adrienne DiPaolo, Partner
"It does sometimes feel bold to take the first step and ask for help, but … I've always been impressed about how willing people are to share information, to make connections, to offer words of encouragement." (video)
- Georgia Brown, Head of Legal Recruitment and Diversity and Inclusion
"I think it's very important for young women to use their own voice, to advocate fiercely for themselves and for causes that they believe in and to fundamentally trust their own instincts." (video)
- Jessica He, Associate
"I like to think about setting goals for myself and envisioning where I want my career to go and in doing so … think about all the concrete pathways that need to be taken to get there." (video)
- Sarah Whitmore, Senior Associate
"Ask for what you want and be prepared to defend your position. Put aside the fear of embarrassment, of rejection or whatever it is that's keeping you from making that ask." (video)
- Yinka Olusoga, Senior Associate
"If you're in a situation where you don't know where to go next … that's exactly the time to be reaching out to colleagues, to peers, to more senior people in the organization or profession more broadly to figure out that next leadership opportunity." (video)
- Molly Reynolds, Counsel
"Take advantage of all of the opportunities that are out there. It's by exposing yourself to these new situations that will really make the growth seem less unfamiliar… more like you're expanding your comfort zone." (video)
- Nooreen Bhanji, Senior Associate
"Don't be afraid to ask for support. That, in itself, can be bold." (video)
- Ariana Lloyd, Legal Practice Assistant