Diversity and inclusivity are at the heart of Torys' values and we have always believed in harnessing the insight and imagination of a diverse group of lawyers and staff who can be their authentic selves at work. We are proud to support Pride Month 2019 and to continue to promote acceptance and respect both within and outside the firm.
Pride 2019
Pride is a powerful reminder for us to recognize the influence the legal community has in fostering a diverse and inclusive environment. Each year in June, Torys recognizes Pride Month during which our LGBTQ2S group hosts a marquee event in our Toronto office. Torys and Enbridge hosted a Pride Reception on June 18 celebrating the importance of diversity and welcomed Chrystia Freeland, MP for University-Rosedale and Canada's Minister of Foreign Affairs, as she shared her advocacy for LGBTQ2S rights within Canada and across the globe.
We also celebrated Pride in New York with our office hosting its first Pride event on June 19. The event kicked off with a tour of the Love and Resistance: Stonewall 50 photography exhibition, which commemorates the 50th anniversary of the Stonewall Riots, a flash point in LGBTQ history. Torys New York was proud to host Consul General of Canada in New York Phyllis Yaffe as the guest of honour.
Our next LGBTQ2S event will be held in August, where we welcome prospective students to meet and build relationships with some of our outstanding LGBTQ2S lawyers and learn more about what it is like being out at Torys (learn more here).
Our involvement
We are proud of our active LGBTQ2S Affinity Group for those who identify as lesbian, gay, bisexual, trans, queer, questioning, two-spirit (as well as other gender identities and sexual orientations) and those who are allies of LGBTQ2S individuals. Members of the LGBTQ2S group participate in recruiting, education, awareness-building and other internal initiatives, as well as fundraising, networking and other external activities.
Other initiatives include:
In 2016 Torys joined other law firms and private sector parties to support the establishment of the Egale Centre—Canada's first and Toronto's only transitional housing facility exclusively dedicated to serving homeless LGBTQ2S youth.
Torys is also a member of the Pride at Work and Out on Bay Street organizations, participating in a number of their events each year.
Torys is an active member of the Law Firm Diversity and Inclusion Network (LFDIN) and collaborates with a community of thought leaders to improve inclusivity and diversity, both within practice and the community.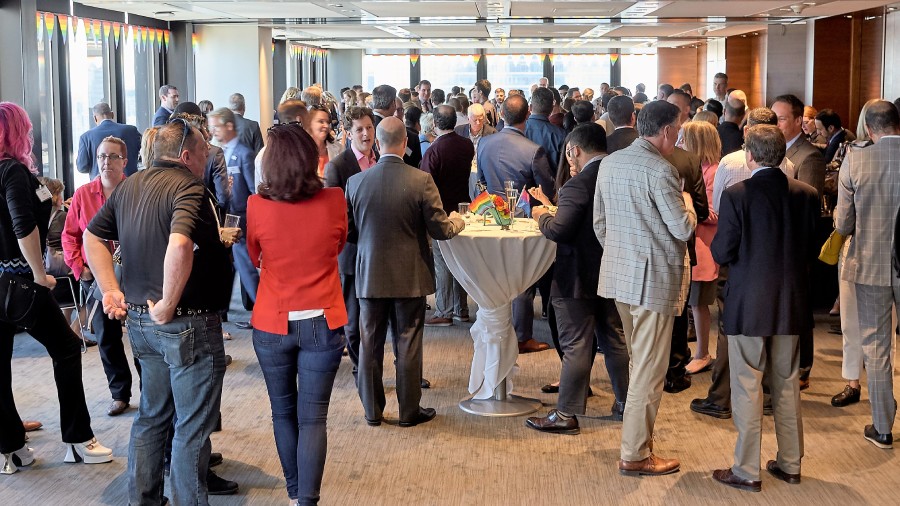 Torys' Pride event in Toronto, hosted in partnership with Enbridge on June 18.
Happy Pride 2019! Let us continue to work together and bring us closer to a universally respectful and accepting society.