We are very pleased to report that Torys is the number one Canadian law firm in M&A by value for Canada-announced deals (Bloomberg). We are also among the top 20 law firms for global M&A, the only Canadian law firm to make that list.
Thomson Reuters also names us the #1 law firm in M&A in Canada by value on completed Canadian deals.
2018 saw some of our clients take on major changes to their business through M&A. Torys M&A co-head Cornell Wright, who led Torys' team on some of the largest deals in Canada last year— including the Thomson Reuters transactions listed below—comments on how the one-team approach among our Toronto and New York offices benefits clients.
"Having a team with a nuanced understanding of market practices and trends on both sides of the border is crucial in today's world and makes doing cross-border deals that much smoother for our clients," he said.
M&A co-head John Emanoilidis, who is leading Luxfer's proposed US$612 million acquisition of Neo Performance Materials, said having such a strong team behind him helps the firm provide the best service to clients during significant transactions.
"We are able to call on our deep bench strength and work with experts from our M&A, tax, employment, environmental, regulatory and lending teams throughout the transaction," he said.
See below for a snapshot of some of the most significant deals Torys had the privilege of working on last year.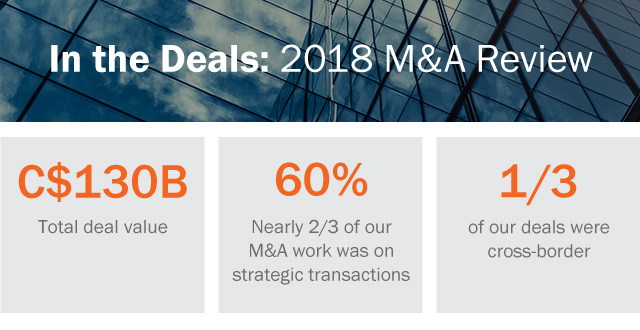 Guiding Transformative Deals
Our clients look to us when it's time to make game-changing moves in their business.
Parkland Fuel's purchase of SOL, the Carribbean's largest independent fuel marketer – an acquisition that gives Parkland access to a host of new business possibilities.
In one of its most significant strategic transactions of the year, Scotiabank made a C$2.5B acquisition of MD Financial Management, the leading financial services provider to physicians in Canada.
In another strategic transaction, Brookfield bought U.S. retail property company GGP in what was one of the largest U.S. REIT deals completed in 2018 (Bloomberg).
Navigating Clients' Cross-Border Goals
Our single team of Canada-U.S. experts helped clients with major cross-border dealmaking in 2018.
In a landmark sale for Thomson Reuters and one of the largest private equity deals last year, Torys assisted Thomson in their strategic partnership and US$17B sale of a 55% interest in Thomson's financial and risk business to private equity funds managed by The Blackstone Group.
Along with a consortium of investors, Canada Pension Plan Investment Board acquired Calpine, America's largest generator of electricity from natural gas and geothermal resources.
Serving Clients Across Sectors
Our broad expertise means our M&A team works with our clients across the industry spectrum. Here is a sample of our sector-focused work from 2018.
You can learn more about our M&A practice here.