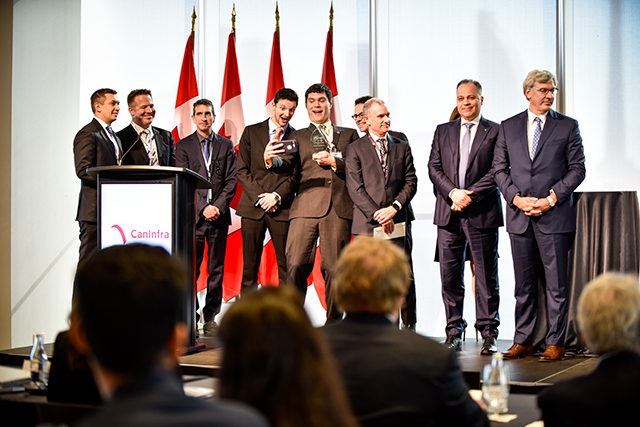 On May 28 and 29 the CanInfra Challenge concluded with a summit held in Toronto. Much of the summit focused on discussing next-generation ideas and ways to put these ideas into motion, but the major highlight of the event was the announcement of the CanInfra Challenge winners.
The three Challenge idea finalists were Icegrid, which aims to de-carbonize the energy grids of Nunavut communities, Taking the High Road, which imagines road lanes able to wirelessly charge electric vehicles, and Redefining the Waste and Water Utility Model, which seeks to process food waste in order to capture energy and reduce GHGs.
After each group made their final elevator pitches to the audience, the judges retreated to select the winners, which were chosen after assessing the transformational potential, relevancy and feasibility of their ideas.
The judges named Icegrid as the First Place winner, thereby awarding the team with $50,000 and the backing of high-profile infrastructure leaders to help put their exciting plan into action. Redefining the Waste and Water Utility Model was declared First Runner Up with a $25,000 prize, followed by Taking the High Road who nabbed an unplanned $10,000 prize in the position of Second Runner Up. Electric Airship Transportation System won the People's Choice award and will receive $25,000 in support of their plans to create an airship transport system for the Canadian North.
We are proud to have helped make this fantastic event possible, as it is truly a unique opportunity for the infrastructure leaders of tomorrow looking to push Canada to its full potential.
To learn more about our Infrastructure practice, click here.
For more on Torys' involvement with CanInfra, click here.