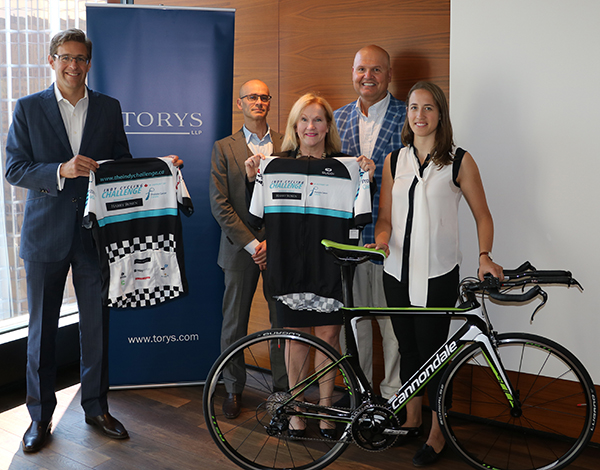 Torys is proud to support Prostate Cancer Canada (PCC), an organization working to eliminate the most common cancer in men. One in seven Canadian men will be diagnosed with prostate cancer in his lifetime. PCC invests the generous donations of Canadians toward funding research that will uncover better diagnostic and treatment options, and toward providing comprehensive education and support services for those living with and affected by prostate cancer.
On August 9 partners Eileen McMahon, Michael Pickersgill and Jonathan Weisz, along with law student Denise Ramsden, were honoured by PCC for their stellar fundraising—and cycling—in the inaugural Indy Cycling Challenge, which the Torys team rode in on July 13 to raise funds for PCC.
"Participating in the Indy Cycling Challenge was a fantastic way to have fun with my colleagues while supporting an important cause. The work Prostate Cancer Canada does to draw attention to the number of men affected by prostate cancer is crucial in working towards finding a cure and educating those who are at risk." - Michael Pickersgill
Congratulations to Eileen, Jonathan, Michael and Denise and thank you to all who participated!
To learn more about PCC, click here.