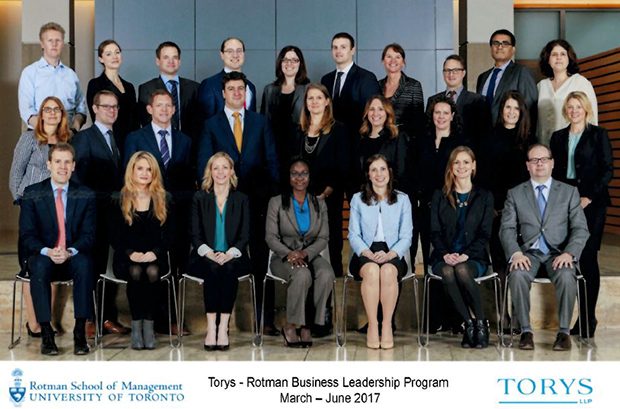 On June 23, the firm wrapped up the third annual Torys-Rotman Business Leadership Program. Led by some of the country's preeminent instructors, the course provides Torys associates with executive-level business and leadership training. Participants from across our offices took part in this engaging program and it was very well received by all.
A few members of the 2017 program give their thoughts on the value of the program below:
"The Rotman Program showed real commitment of Torys to our becoming leaders in our fields and in the law. A highlight was the Dragon-Den-esque pitch to senior partners, a real practicum on how to better communicate with clients (but without the cameras or theatrics)."

"This program gives busy associates the space to consider the practical leadership skills learned in our careers to date, the theory that supports how and when to use those skills, and the insight of expert instructors to expand our view of strategic thinking and how to contribute to building a better firm."

"Participating in the Rotman-Torys Business Leadership Program was such a valuable experience for me, both personally and professionally. The faculty was fantastic and led thought provoking sessions on a wide range of relevant topics related to strategy, leadership and effective communication. Working so closely with my colleagues during the program was a true pleasure and brought depth and perspective to the material. The firm's commitment to this program is a good reminder of what Torys has always been about – investing in people, encouraging collaboration and striving for excellence."
Congratulations to those who completed the course. We look forward to next year's program!