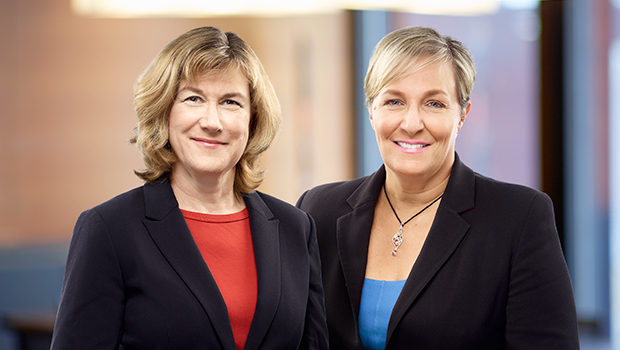 Pictured above, Kelly Morris (left) and Jill E. McCutcheon (right).
We are pleased to welcome Jill E. McCutcheon and Kelly Morris to the firm's Financial Services Practice in Toronto.
Jill joins us as a partner and will co-head the firm's Financial Services Practice. She specializes in corporate and commercial law and regulatory matters for the financial services industry and also has extensive experience in privacy law and data breach response matters. She has more than 25 years of experience in providing advice to the insurance industry in the property and casualty, life and reinsurance sectors. She advises on all aspects of the law, whether federal or provincial, and acts as counsel to insurers, reinsurers, banks, credit unions, intermediaries, cover holders and MGAs, third-party administrators, retailers, employers and associations.
Kelly joins the firm as senior counsel, specializing in insurance—corporate and regulatory, privacy and data security, and anti-spam legislation (CASL). She advises domestic and foreign insurers, reinsurers, banks, brokers, agents, adjusters and other insurance intermediaries. Kelly also has experience in compliance, market conduct matters, and anti-money laundering issues.
Jill and Kelly's expertise will add depth and bench strength to our Financial Services Practice, positioning us to further meet growing client needs.
To learn more about our Financial Services Practice, please click here.