During last year's Canadian Council for Public-Private Partnerships National Conference, partner Tara Mackay and fellow colleagues (shown below) weighed in on the latest issues concerning infrastructure, including P3's latest trends, regulations and projects. Among these topics was Infrastructure Ontario's (IO) new Vendor Performance Program, which launched this January and which is expected to set new standards for Ontario's construction contractors in order to promote continuous feedback and improvement. Lexpert featured both the conference and new IO program in a recent article on this quickly evolving area.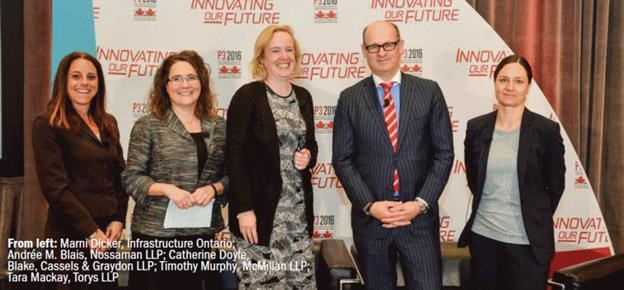 Photo credit: Canadian Council for Public-Private Partnerships
Current issues in the development stage of the P3 life cycle—such as the new IO program—were among the topics covered at the CCPPP Conference panel, in which Tara moderated legal and procurement experts in a discussion on changes in procurement best practices, conflict of interest, dispute resolution, updates to templates and processes, and more.
Get more of Tara's insights on the changing P3 landscape in her article "New Investors, New Scope: Infrastructure Investing is Broadening."
Read Lexpert's article on the new IO program here.