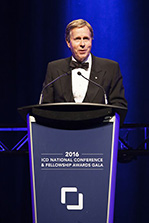 Torys is thrilled to announce that on June 2, firm chair Robert Prichard was awarded a 2016 ICD Fellowship Award by the Institute of Corporate Directors (ICD), Canada's national association representing director and boards. As described by the ICD, the award is one of the highest honours for Canadian directors who have made a significant contribution to their role. The recipients of the Fellowship Award are chosen by an Awards Selection Committee composed of senior directors and past Fellows.
We warmly congratulate Rob on this outstanding recognition.
Click here to learn more.