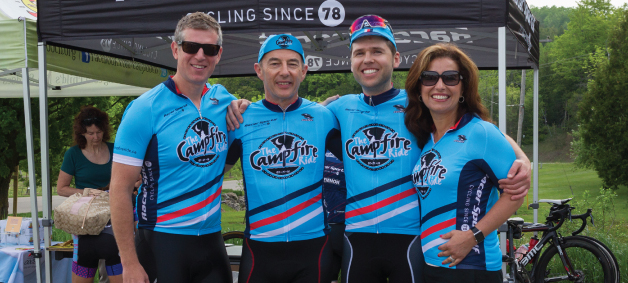 "I am grateful that Torys has once again supported this great event. The continued support Camp Ooch has received from the leadership of the firm, and all of the riders has been immense and truly makes a difference to these kids!"
—Jamie Scarlett, Partner, Torys LLP
On May 29, partners, associates, and family and clients of the firm participated in the second annual Campfire Ride with Racer Sportif, benefitting Camp Oochiegas (Camp Ooch). The event took place at Hockley Valley Resort and attracted over 90 participants taking on 70km or 100km to help fundraise and send kids with cancer to a camp like no other.
Camp Ooch is a privately funded, volunteer-based organization that provides year-round programs for children (and their families) with and affected with childhood cancer, including the unique and exciting opportunity to experience the wonder of camp.