For the tenth year in a row, Torys is proud to support and participate in the Give a Day to World AIDS campaign.
The Give a Day initiative challenges Canadians to support World AIDS Day on December 1st by giving one day's pay to the Stephen Lewis Foundation (SLF) or Dignitas International, two Canadian organizations dedicated to the global fight against HIV/AIDS.
The Stephen Lewis Foundation partners with community-level organizations that are working to alleviate the devastation caused by HIV/AIDS in Africa by providing care and support to women, orphans, grandmothers and people living with HIV and AIDS.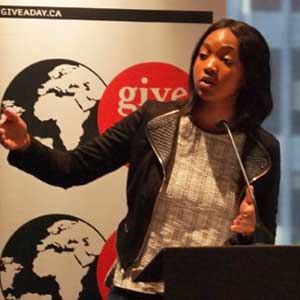 Dignitas is a medical humanitarian organization that develops impactful solutions for HIV/AIDS and related diseases. Dignitas works to improve the lives of people, families, and communities in the developing world through three areas of focus: providing frontline medical care and training, conducting high-impact research, and facilitating knowledge transfer between researchers, health workers and policymakers.
This year's Give a Day Campaign focused on children and youth and the very specific and special interventions that are required to support them. To mark our campaign, Torys hosted special guest Mpumi Nobiva, a 22-year-old woman whose childhood was deeply affected by the trauma of HIV and AIDS. Mpumi lost her mother to HIV when she was only nine years old and was raised by her grandmother. She is a member of the first graduating class of the Oprah Winfrey Leadership Academy in South Africa and now attends university in the U.S. on a full scholarship. The realities of the communities Give a Day works with in Africa resonate deeply with Mpumi's own experience and she graciously agreed to share her story with us.
Our 2015 Give a Day campaign was held on Friday, November 20th and it was another successful year!