Magna Carta is one of the foundational milestones in English history that forms part of the heritage of Commonwealth and other countries, including the United States of America. It infuses our democratic government and our legal system and is well worth celebrating.
—The Honourable Frank Iacobucci, C.C., Q.C.
Honorary Committee Member, Magna Carta Canada
Torys is proud to support the 2015 Magna Carta Canada tour. The Canadian tour officially arrived in Toronto on October 4, the exhibit will remain in Toronto until November 23, before continuing on to Edmonton, the final destination of this tour. This unprecedented touring exhibit, featuring an original copy of the Magna Carta and its companion charter, is part of a global celebration to commemorate the 800th anniversary of the iconic document.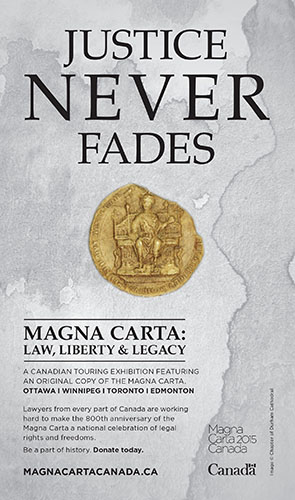 Written in 1215 in England, the Magna Carta was the inspiration for a multitude of modern-day human rights declarations, including Canada's Charter of Rights and Freedoms, the American Declaration of Independence and the United Nations Universal Declaration of Human Rights. Groundbreaking for its time, the Magna Carta also captured significant legal concepts, three of which underpin our democratic society even today: that nobody is above the law, that individuals should be free from detention or imprisonment without just cause, and that an accused person has the right to a trial by jury of his peers.
The Canadian tour began in June, and will run until December 2015. We are honoured to support the Magna Carta Canada organization in bringing this extraordinary tour to life and invite Canadians to participate in this remarkable tribute to our democratic legacy.
To see the touring schedule and learn about the history of the Magna Carta, click here.