On July 10, 2015, Torys welcomed 30 high school students from the Law in Action Within School (LAWS) Youth Summer Program to the firm. We were pleased to provide these students with a close-up view of our firm and enrich their knowledge of legal practice. The Torys visit capped off a week of immersive legal learning focused on law and politics.
The LAWS Youth Summer Program is a unique law school experience offered every year to a group of exceptional high school students from around the world. This year the program spans seven one-week sessions throughout July and August. Students spend a week learning and discussing legal concepts, and work towards exciting and challenging culminating activities such as a mock trial. Each week focuses on a different area of law: criminal, international, corporate, trial advocacy, entertainment and the law and politics.
Torys has a successful history of partnering with LAWS through the Law Firm Mentoring and the Youth Summer Jobs programs. Since 2009, our lawyers have provided guidance as mentors to LAWS students from Harbord Collegiate Institute. The firm also grants summer employment to two program students every year. These initiatives enable students to gain exposure to a professional environment, receive support for pursuing postsecondary education and build workplace skills.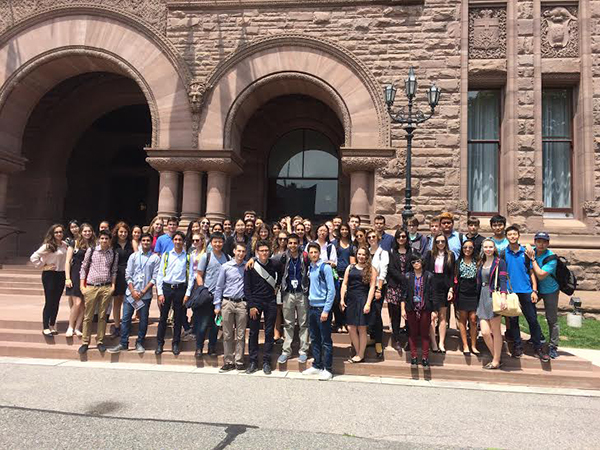 The day included a trip to Queen's Park.
To learn more about LAWS, visit the program website.