We at Torys are proud to provide a welcoming and supportive environment for members of the LGBT community. One of the goals of our Diversity Committee is to recognize and celebrate diverse cultural, religious and equity events and holidays.
Over the last year, much progress was made to eliminate barriers to equal rights for LGBT people in Canada, the United States and across the world. For example:
The United Nations passed a resolution condemning violence and discrimination against people based on gender identity or sexual orientation.
In February 2015, Wade MacLauchlan was sworn in as the premier of PEI and is the second openly gay or lesbian Canadian provincial premier.
The Canadian Olympic Committee, in collaboration with Egale Canada and You Can Play foundation, announced a program to combat homophobia in sports by training Canadian athletes to speak on LGBT issues to students and youth groups.
Mexico's Supreme Court recently ruled that state laws restricting marriage to heterosexual couples are discriminatory.
In May 2015, Ireland became the first nation to legalize same-sex marriage by popular vote.
In July 2014, President Obama signed an order outlawing federal contractors from discriminating on the basis of a person's gender identity or sexual orientation.
Today, it was announced that the U.S. Supreme Court released its landmark decision declaring same sex marriage legal in all 50 states.
On June 24, Torys hosted a Pride reception in the Toronto office with special remarks from The Honourable Kathleen Wynne, Ontario Premier.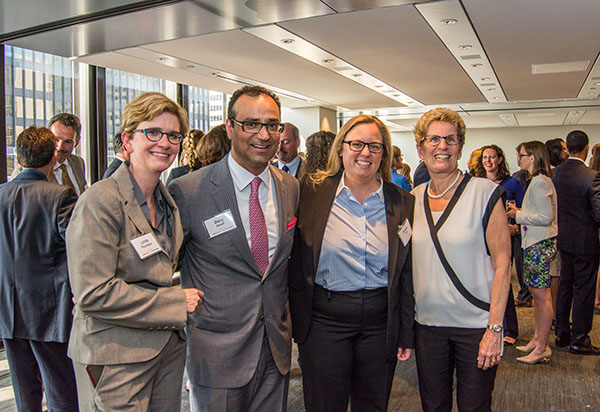 In recognition of the successes and ongoing struggles of the LGBT movement, Pride events will be held across the world. Some of the Pride events near the Torys offices are listed below:
Toronto: Pride Toronto takes place June 19-28. The Pride Parade is on Sunday, June 28, the Trans*Pride March is on Friday, June 26, and the Dyke March is on Saturday, June 27.

New York: Pride New York is June 23-28, with the Pride March on Sunday, June 28.

Halifax: The Halifax Pride Parade is on Saturday, July 25.

Montréal: The LGBTA Parade is on Sunday, August 16.

Calgary: Pride Calgary is August 28-September 7. The Pride Parade is on Sunday, September 6.
The firm takes pride in providing a workplace culture that values the contributions of the LGBT community. For those participating in or attending the various events across our cities, we wish you an enjoyable Pride 2015.