The firm warmly congratulates partner Sheila Block on being awarded the Law Society of Upper Canada's (LSUC) honorary Doctor of Laws degree (LLD). The award was presented during the LSUC's Call to the Bar ceremony held at Roy Thomson Hall on April 24. The LSUC bestows the honorary degree in recognition of outstanding achievements in service and benefit to the legal profession, the rule of law or the cause of justice. As the honorary LLD recipient, Sheila kept with tradition by delivering an inspirational keynote speech to the newly admitted lawyers attending the ceremony.
Apart from her renowned skills as a litigator, Sheila is deeply involved in service to the legal profession and wider community. Torys is delighted to see Sheila recognized for her exceptional contributions to the legal profession.
For more information on the award, click here.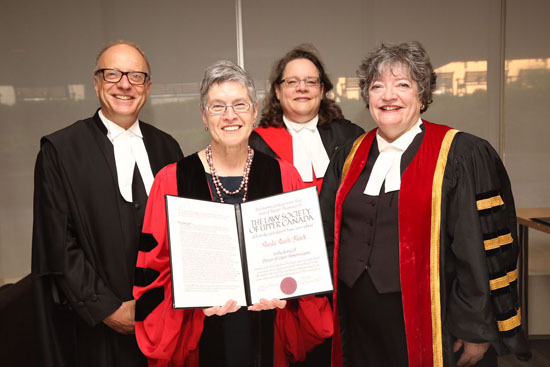 From left to right: CEO Robert Lapper, Partner Sheila Block, Madam Justice Wendy Matheson and Treasurer Janet Minor